It's been a while since we Digimon fans met up with our old friends in theaters with "Last Evolution Kizuna". Now, we will live a similar experience again with "Digimon Adventure 02: The Beginning", because the film arrives in our country on December 1st. Not even its lukewarm premiere in Japan in critics and box office It takes away our illusion.
Today, the news is that we have finally been able to see the trailer in Spanish for "Digimon Adventure 02: The Beginning"that has been shared by Selecta Visión. I leave it right here, and below I remind you some information about the movie and its premiere in our country.
Trailer in Spanish for Digimon Adventure 02: The Beginning
Here you have the video:
Now, some facts about the movie:
"Digimon Adventure 02: The Beginning" premieres in Spain will be next December 1st. 🗓
The film can be seen at Spanish, Catalan and VOSE. 🗣
Its duration will be 1 hour 20 minutes. ⏳
If distributor in our country is Select Visionthe same one that brought us "Last Evolution Kizuna" and so many other anime movies. 🐺
Still is soon to know the list of cinemas, although we hope that many theaters will be encouraged to project it (personally I don't trust it too much…). ❓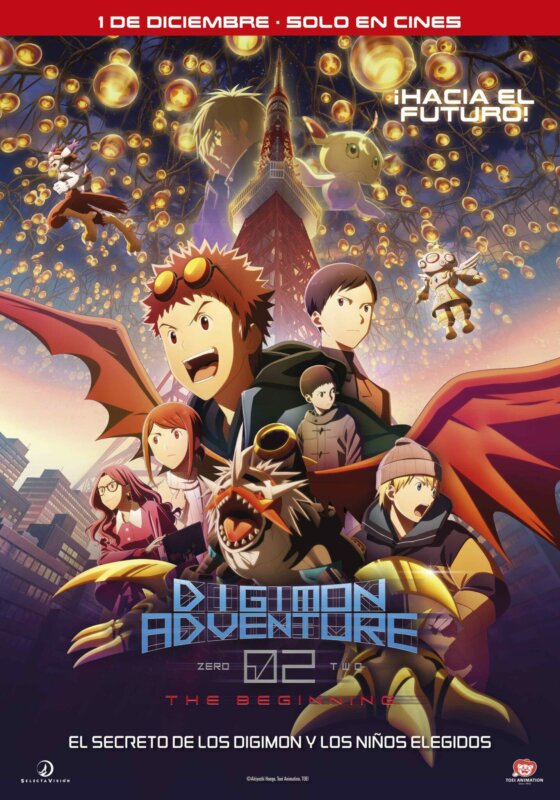 And here comes the information about the premiere of "Digimon Adventure 02: The Beginning" in Spain. If you are interested in reading the synopsis of it, I leave it below.
Before, I leave you a "curiosity" Digimon. And it is that has been arrested for fraud he actor who voices Joe in Japan. Of course, this is something his character would never do.
Synopsis of Digimon Adventure 02: The Beginning
The chosen children, now adults, mobilize once again with their Digimon companions to face the greatest crisis in history.
It's 2012 and ten years have passed since the days of adventures between Odaiba and the Digimon World. Although each went their own way, Davis and the other Chosen Children and their Digimon companions remained united by an unchanging bond. Then, one fine day, a giant Digimon suddenly appears above Tokyo Tower and sends a message to the world: "Friends for all. "Digimon for everyone."
As the world watches, a young man named Rui Owada appears before Davis and his friends with a missing Digital Device. Behind the birth of the chosen child lies young Rui's only wish… When the past and present connect, the greatest crisis in Digimon history will take place!