In the Kimetsu No Yaiba saga , also known as Demon Slayer, we meet many fascinating characters. But in this article we want to give prominence to the women of the series. Do you want to know more about these interesting girls? Well keep reading!
Note: This article is focused solely on the events of the anime and the movie, so we will only cover characters that we have met so far in those adaptations.
Kimetsu No Yaiba age and height of the all Femal characters.
The most important female characters in Demon Slayer
1. Nezuko Kamado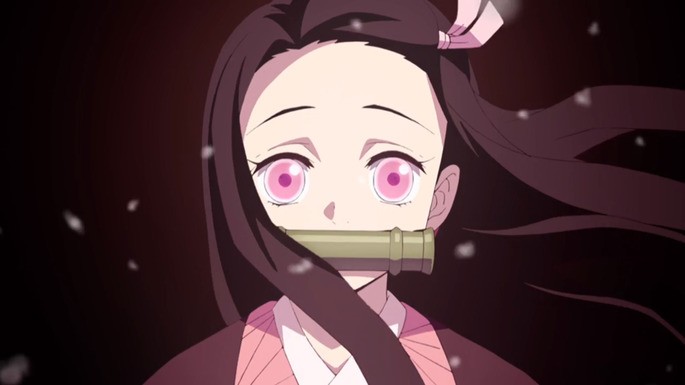 Birthday: December 28
Age: 12
Affiliation: Demon Hunters
Nezuko was transformed into a demon earlier in the series at the hands of Muzan Kibutsuji, the culprit in the Kamado family massacre. She is Tanjiro's younger sister, and her personality is almost the same as her brother's. As a human, she was a girl who cared a lot for others, even putting their needs first.
Thanks to Sakonji Urokodaki and a hypnosis technique, he is unable to harm humans, whom he sees as part of his family. When he sees his brother and his allies in danger, he does not hesitate to join the battle to support and defend them.
You can modify its size with your demon abilities. Tanjiro carries her in a box created to avoid being hurt by sunlight.
2. Shinobu Kocho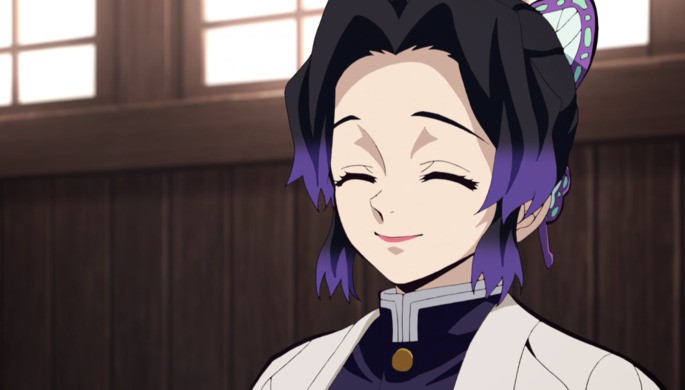 Birthday: February 24
Age: 18
Affiliation: Demon Hunters
Shinobu is a young demon hunter, a member of the elite force corps, the Pillars. At the moment it fulfills the paper of the hashira of the insects. This position was inherited from his older sister, Kanae, who passed away fighting a demon.
The girl joins the hunters' force with her sister after a demonic attack on their home, which leaves both orphans. Thanks to the death of his parents and his sister, Shinobu feels a strong resentment towards the demons. This side of her does not show it to everyone, preferring to look calm and clueless to honor the memory of how her sister behaved.
His relationship with the Kamado brothers changes a bit after understanding their stories, and he shows them compassion and support. Tanjiro is one of the few characters outside of the Pillars who knows of the constant state of rage that Shinobu is in, sensing it in his scent when they speak.
She is very close to Mitsuri, as they are both the only women who are members of the pillars.
3. Mitsuri Kanroji
Birthday: June 1
Age: 19
Affiliation: Demon Hunters
Mitsuri is a demon hunter member of the elite group within the force, the Pillars. Play the role of the Pillar of Love.
He has an emotional and passionate personality, and he likes to give compliments on his head. In fact, what is usually "heard" from her are internal monologues, talking about how incredible her classmates look and how admirable her actions and words are.
The young woman joined the hunters with the intention of finding a husband. However, this wish has been in vain, as it is practically impossible for her to find a man who is stronger than her. Mitsuri has a superhuman build that gives him eight times the muscle mass of a normal human. To learn to carry her heavy muscles, the young woman relies on a lot of strength.
4. Kanao Tsuyuri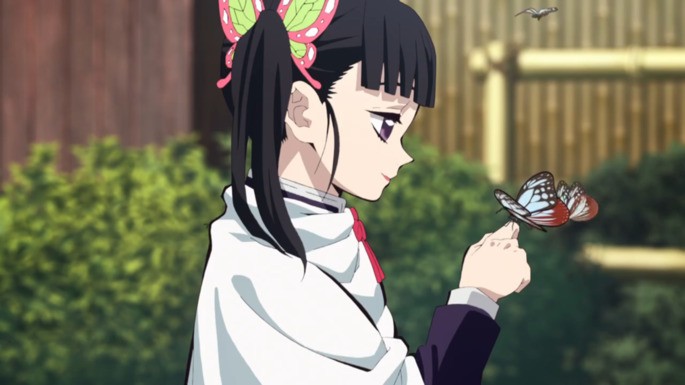 Birthday: May 19
Age: 16
Affiliation: Demon Hunters
This quiet and mysterious young woman is Shinobu's apprentice. Kanao was adopted by the Kocho sisters when she was just a child. They found her in the street with a subject who was tied up like a dog, and they refused to let her go without protecting her from her possible slavery fate. Eventually, they adopted her as their sister.
When we meet her on the series, she is an indecisive girl who is unable to make decisions on her own. Thanks to Kanao, she adopts a one-coin system, which helps her choose between two options with ease.
Upon meeting Tanjiro, the young man tries to help her express herself better and less ambiguously. His short interactions with Tanjiro show that he is fond of him and somewhat affectionate, and that a romance could develop between them in the future.
5. Kanae Kocho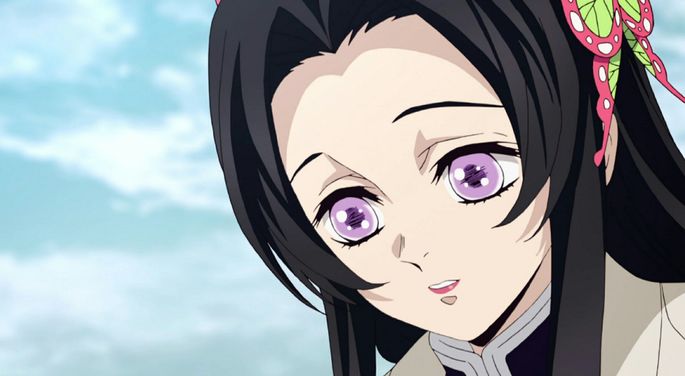 Birthday: Not available
Age: 21
Affiliation: Demon Hunters
She was the older sister of Shinobu and Kanao. A member of the demon hunter force, he played the role of the Pillar of Flowers.
His laid-back and gentle personality was what inspired Shinobu to present himself like this to the world. She was a very sweet and concerned young woman, and she shows it when she adopts Kanao after meeting her on the street. Thanks to her bravery, the girl avoided a possible life as a slave, which makes Kanao feel indebted to her.
Kanae's passing deeply affected both Shinobu and Kanao. After losing her, Shinobu began to feel much more internal anger, while Kanao remained even more closed and hurt, feeling an unbreakable will to destroy the demons that did so much damage to her adoptive sisters.
Kanae's dream was for both Shinobu and Kanao to have a normal life, away from the constant battle against demons. But Kanao joined the hunter forces and passed the exam because of his conviction, while Shinobu made it his mission to kill as many demons as he could because of how much he lost in his past.
6. Tamayo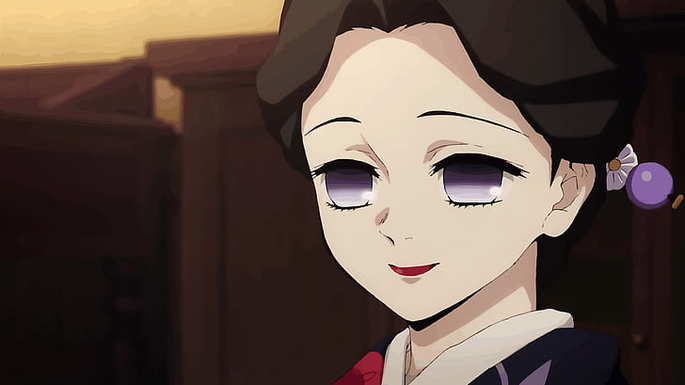 Birthday: Not available
Age: 500
Affiliation: Demon Hunters
Tamayo is a gentle and intelligent woman who has always been interested in the study of human transformation into a demon. Being a demon herself, she is one of the few of her race allied to humanity. Logically, when she meets the Kamado brothers, she is very interested in the nature and will of Nezuko, who has never fed on a human.
She also has extensive knowledge of medicine, being a doctor for Tanjiro the first time we meet her. He shows disdain for violence, and in order to maintain his existence in this world as a demon, he does not attack humans for their blood. Instead, he takes blood from volunteer donors. He has an assistant, Yushiro, to whom he instills these strong beliefs, to defend the humans and end the existence of Muzan.
He is the character with the most medicinal knowledge in the entire series.
7. Amane Sisterhood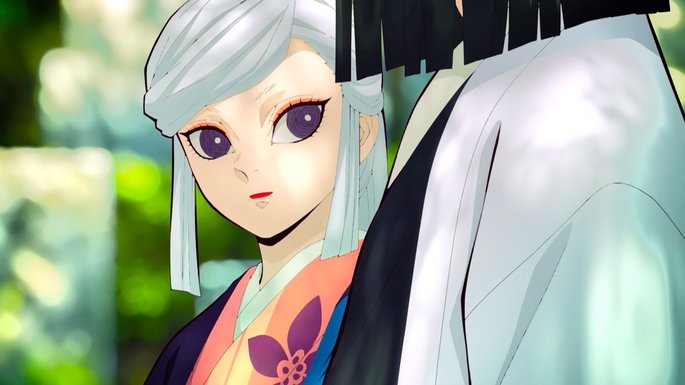 Birthday: Not available
Age: 27
Affiliation: Demon Hunters
She is the wife of Kagaya Ubuyashiki and the mother of their 5 children. He appeared briefly during the first scene of the film.
Little is known about Amane, as she takes care of the health of her husband, Kagaya, and their five children. However, she will have to take it upon herself to lead the demon hunters when Kagaya's illness prevents her from mobilizing alone, and her health inevitably deteriorates.
Her personality is quiet and serene, but she is a strict and serious woman, just like her husband. Her way of addressing hunters is as gentle and kind as her husband's. He is older than Kagaya, whom he met when she was 17 and he was 13. The girl was specifically chosen by a priest to become Kagaya's wife. Her fiancé, however, would not accept her marrying him if she did not have the will to actually love him.
8. Kanata Ubuyashiki
Birthday: Not available
Age: Not available
Affiliation: Demon Hunters
Kanata is the youngest daughter of the Ubuyashiki house. The first time we meet her is during the final selection exam, and we discover that she has a professional, intelligent and focused personality. She was in charge of giving the exam details for aspiring hunters. In addition, she shows a stoic character towards the candidates, despite being in danger or being threatened by violent individuals.
He has a twin sister named Kuina, but in the anime she has not been introduced yet. The Ubuyashiki family has five children in total, four girls and one boy. The only brother, named Kiriya, is the direct heir to Kagaya's position as leader of the demon hunters.
9. Nichika Ubuyashiki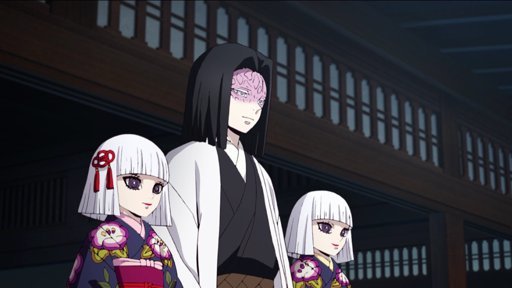 Birthday: Not available
Age: Not available
Affiliation: Demon Hunters
Nichika is Hinaki's twin sister, being one of the older daughters of the Ubuyashiki family. He is extremely loyal to his family, but very little is known about the girl beyond her brief appearances in history. She wears a red ornament in her hair.
10. Hinaki Ubuyashiki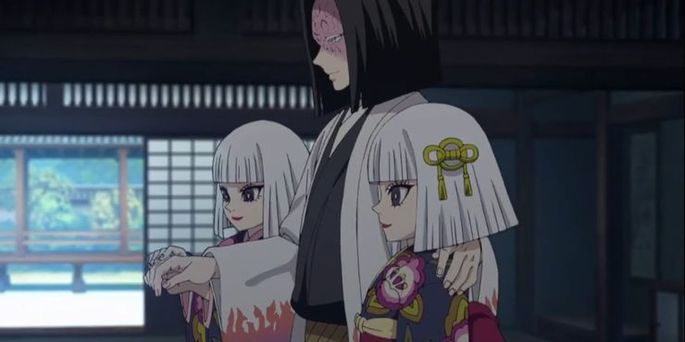 Birthday: Not available
Age: Not available
Affiliation: Demon Hunters
Hinaki is Nichika's twin sister. She is the eldest daughter of the Ubuyashiki family. He has had no more than brief appearances in both the manga and anime, but he denotes great loyalty to his family. She wears a green ornament in her hair.
11. Aoi Kanzaki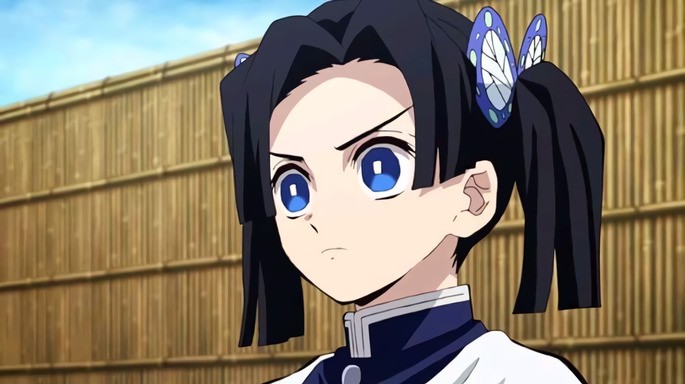 Birthday: Not available
Age: 15
Affiliation: Demon Hunters
We meet Aoi for the first time as Tanjiro, Zenitsu, and Inosuke's trainer. She is a strict and firm young woman, housed in the Butterfly Mansion under the care of Shinobu Kocho. In training the trio of protagonists she proves extremely tough and pushes them to their limits, but she soon proves sensitive and sweet when Tanjiro gently talks to her about her efforts and when she discusses Inosuke's injuries.
When Aoi loses her family, she goes to live in the Butterfly Mansion, where she learns breathing techniques. She does not consider herself a talented woman, as she says that she passed the national exam by sheer luck. Due to this feeling, she does not dedicate herself as a hunter, but rather to train the aspirants.
Shinobu taught him medicine to help those who arrive at the mansion injured.
12. Susamaru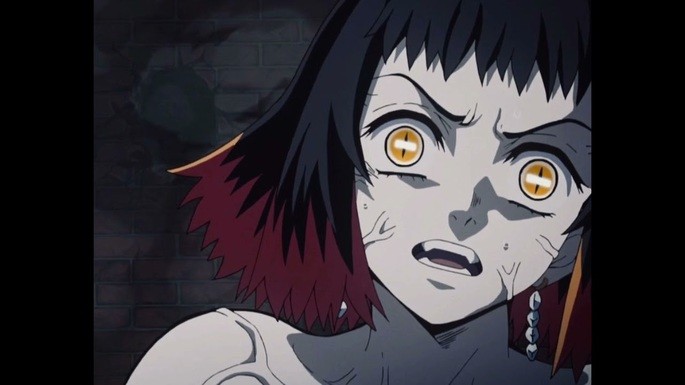 Birthday: Not available
Age: Not available
Affiliation: Demons
Susamaru is an ambitious demon who wanted to finish off Tanjiro Kamado on Muzan's orders. His wish was to ascend to the twelve moons after completing the task.
Also known as the demon of the Temaris, Susamaru travels with Yahaba, her companion. Their personalities show an impressive contrast, as she is easily laughed at and enthusiastic, while Yahaba is more serious. Her past indicates that she was a girl who very much enjoyed playing with the balls known as "temaris", before being transformed by Muzan.
At the time of her death, the power of a curse that Muzan has placed on all her subordinates is displayed, which ends her in a graphic and horrible way. Tanjiro shows her one last act of cordiality by handing her his ball upon hearing her whisper for her.
13. Kie Kamado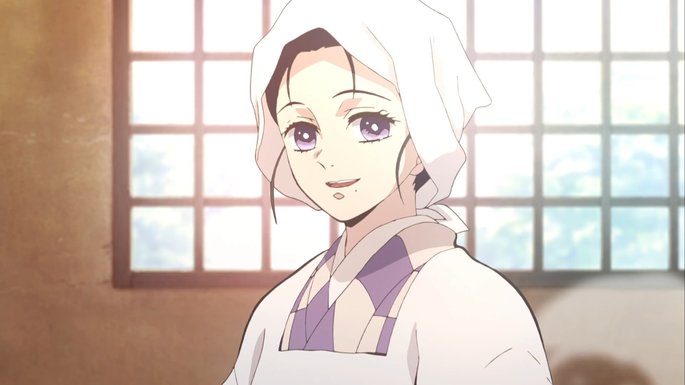 Birthday: Not available
Age: Not available
Affiliation: Humans
She is Tanjiro's mother, who was killed by Muzan Kibutsuji. The little we know about her is that she was a sensitive and kind woman.
He had six children with Tanjuro Kamado, who died at some point in history from illness. Thus, Kie was left alone with her six children. His eldest son, Tanjiro, was in charge of working to maintain the house. He was in charge of selling coal, and on the fateful night of his family's death, he was away from home during the night, after a sale.
14. Hanako Kamado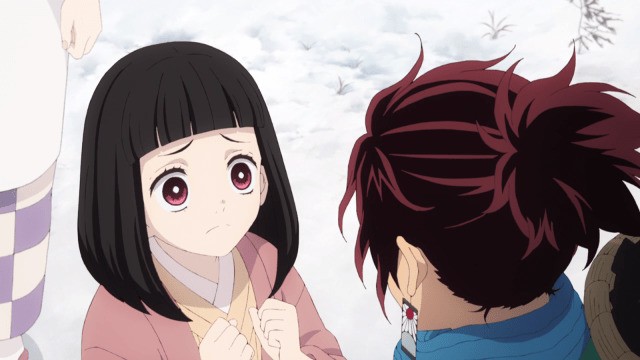 Birthday: Not available
Age: Not available
Affiliation: Humans
She was Tanjiro's second younger sister. He loved to get his brother's attention, and he wanted to accompany him to town on the fateful night of Muzan's attack. Since Tanjiro was not going to take the cart to load the coal, he refused to take his little brothers with him on his errand.
15. Mountains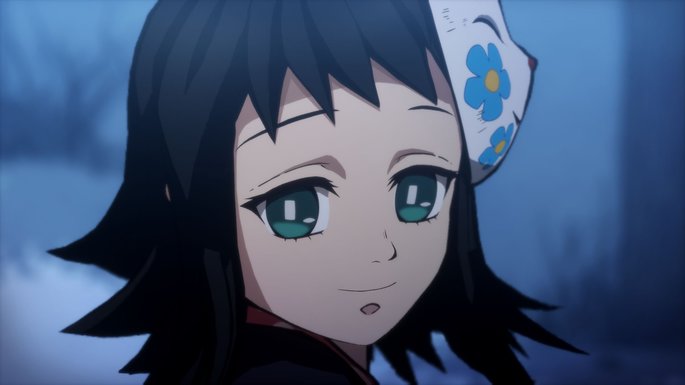 Birthday: Not available
Age: Not available
Affiliation: Demon Hunters
Makomo was a little girl who was training under Sakonji Urikodaki. Sabito's partner, their personalities are an obvious contrast. While Sabito was aggressive and strict, Makomo was patient and quiet, with an innate kindness.
The girl appears before Tanjiro during his training in the mountains. It is thanks to his spirit and that of Sabito that Tanjiro manages to master the breathing technique. After the young hunter manages to kill the demon that Sabito and Makomo killed, their souls are able to leave the mountain and go to the spirit world.
16. Ruka Rengoku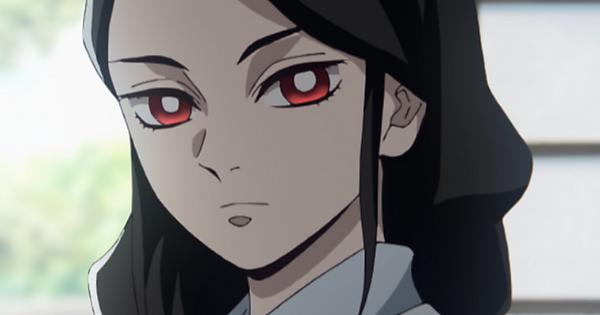 Birthday: Not available
Age: Not available
Affiliation: Demon Hunters
Ruka Rengoku was the most important person to her son, Kyojuro. He was the one who taught him his greatest conviction: to use his power to defend those who are weaker.
She was a kind, graceful and intelligent woman, in complete contrast to her husband, who used to be loud and gruff. His moral code is extremely strong, and he inherits it from his eldest son, who uses it as inspiration to continue fighting against Akaza.