UPDATE : The "Hunter x Hunter" tweet and account are confirmed to be real by the "One Punch Man" manga artist, strange as the situation is. Exactly, the tweet says ' For now there are 4 chapters left '; It is not entirely clear what it could mean and for now there is still no communication from JUMP of any kind, BUT IT LOOKS LIKE THE MANGA COULD COME BACK SOON.
---
ORIGINAL NEWS : ' You don't play with this ', which my dear colleague Miguel reacted in capital letters by telling him that, out of nowhere, an already viral tweet has appeared supposedly from the hand of the author of " Hunter x Hunter ", Yoshihiro Togashi, theoretically to warn that the end is near . And why do I say supposedly? Well, because despite the fact that the tweet (and the account) already has tens of thousands of interactions on Twitter, there is not a single indication that it may be real . Yes, there are people who love to play with people's illusions.
Hunter x Hunter: what chapters of the manga should I read to continue the story
Could Hunter x Hunter end? The rumor that has incensed Twitter in the last hours
To make things clearer, I'm going to leave you with the supposed tweet that indicates that the end of the "Hunter x Hunter" manga could be really close: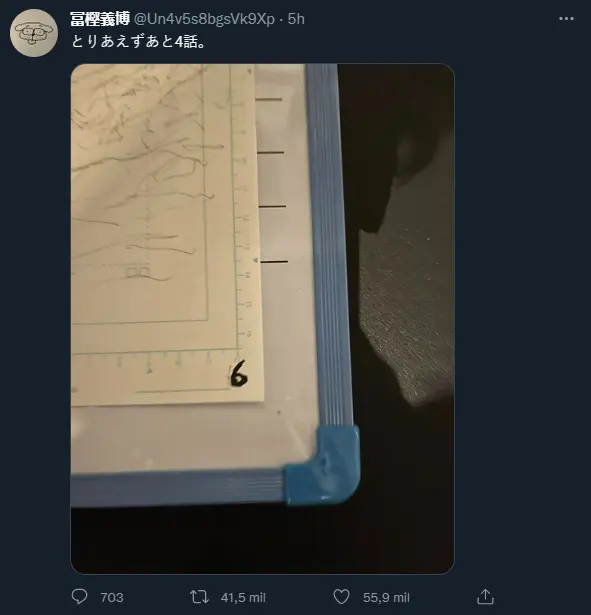 With the tweet here, we are going to comment on things calmly because the situation deserves it:
The tweet in question is supposed to be from Togashi-sensei, and it indicates that there are only 4 chapters left to finish the Hunter x Hunter manga . ❗❗❗❗❗
Is this real? Well, at the moment there is no way of knowing. However, WSJ_Manga reports that a fake Togashi-sensei account has already appeared in the past month , although in that case it was quickly removed. ❓❓❓
On the other hand, as you will see, this tweet already has more than 40k RTs and more than 55k likes , in addition to the fact that the account in question has more than 50 thousand followers . ✔️✔️✔️
It should also be mentioned that, according to MangaMogura , Murata-sensei (the cartoonist of the One Punch Man manga) came to RT this same tweet , although he later undid it since, again, it is unknown if the account is real or fake. ❌❌❌.
If I give you my opinion, it seems to me that this will end up being more fake than the wigs they sell for "Dragon Ball" cosplays . Absolutely nothing has been heard about the "Hunter x Hunter" manga in a LONG time, so such a sudden tweet from Togashi-sensei… the truth is that he doesn't smell particularly good. We will have to wait, but for now he has gotten out of hand already in the networks.
Hunter x Hunter Synopsis
Hunter x Hunter tells the story of Gon, a 12-year-old boy who, after learning that his father is still alive, dreams of becoming a hunter in order to find him. During his journey, this young man will make good friends with other aspiring hunters named Leorio, Kurapika and Killua, who have their own motivations and secrets. Unfortunately for Gon, his journey will be full of dangers, mysteries and challenges that he must overcome.