Renowned manga author, illustrator, and designer Leiji Matsumoto He passed away on February 13 at 11:00 a.m. due to heart failure, at the age of 85. His immediate family members held a funeral at his man's, with his wife, the author Miyako Makidirecting the organization.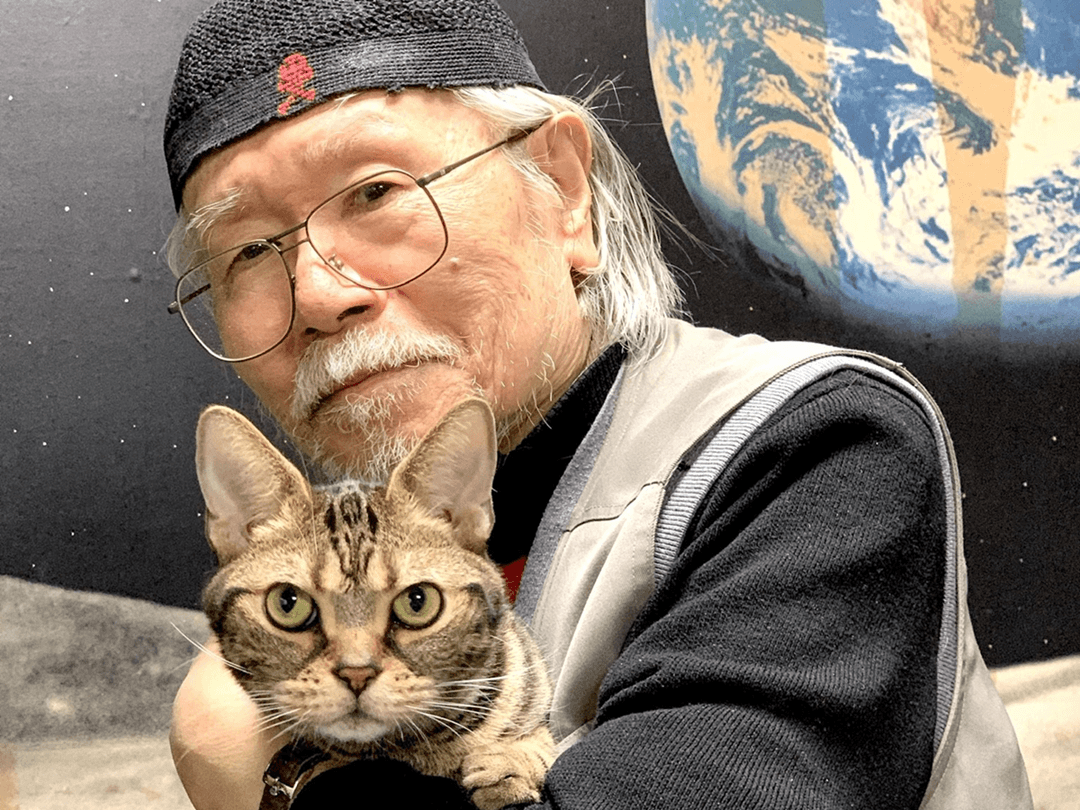 Matsumoto was born Akira in Kurume City, Fukouka Prefecture, in 1938, and debuted as a manga artist in 1953 with "Michibachi no Bouken (Honeybee's Adventure)" while still a high school student. After graduating, he moved to Tokyo and became popular in the 1950s as a shojo manga author under an assumed name. He later adopted his popular name of "Leiji Matsumoto" in 1965.
His notable works included Uchuu Kaizoku Captain Herlock (Captain Harlock: The Classic Collection); Ginga Tetsudou 999 (Galaxy Express Three-Nine) and Uchuu Senkan Yamato (Space Battleship Yamato), all of which inspired anime and live-action adaptations. Matsumoto was also responsible for the designs and supervision of the project. INTERSTELLA 5555a series of anime-styled music videos directed by the now estranged French electronic music duo daft punk.
His designs and works have influenced multiple generations of artists from around the world. Matsumoto's mechanical designs ranged from elegant warships inspired by early 20th century battleships to fantastical space trains. Similarly, his characters ranged from cartoonish designs to realistic figures.
It was for this reason that multiple artists commented after the news of his death:
Yasuhiro Nightowauthor of Trigun: «Matsumoto-sensei. His work drew me into the world of manga. In my work the drops of stars that he gave me abound. I am happy with the knowledge that they have passed on to the next generation. Tonight, I will read Wadachi and Daijunjō-kun. Thanks for all the hard work. And I express my gratitude from the bottom of my heart».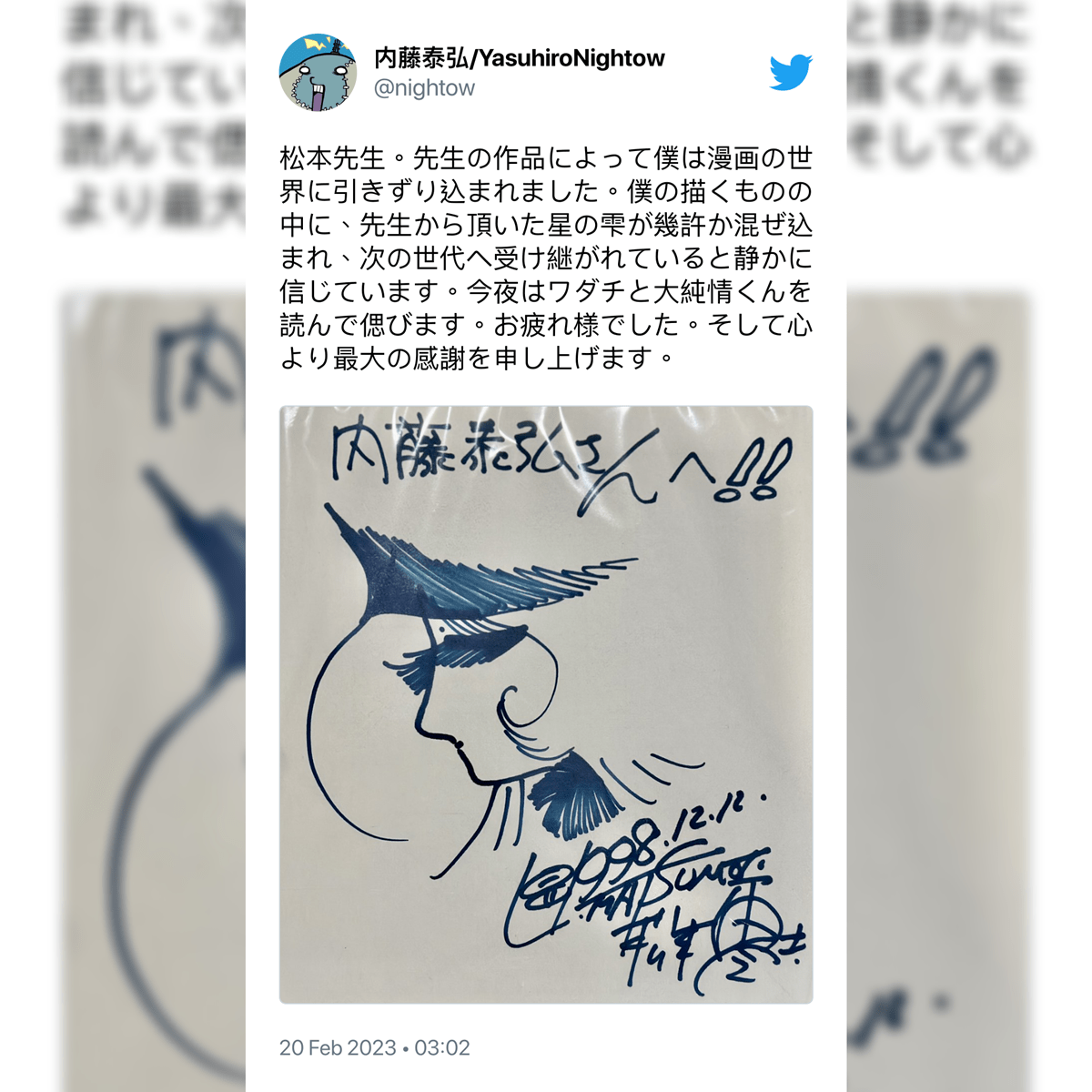 ami shibata author of Papuwawrote: "When I was still a newcomer, I received a long message full of sternness, kindness, and a lot of heart. It can also be a message for every aspiring manga creator, so I've decided to post it. Matsumoto-sensei, I became a manga artist thanks to the many works of yours that I read».
Nozomu Tamakiauthor of Dance in the Vampire Bundwrote: "I only saw Leiji Matsumoto once. It was when I interviewed him about a Space Battleship Yamato PlayStation game. After having a lively conversation on a wide variety of topics, he asked me on the way home, "What kind of manga do you draw?" Back then, I was barely making a living from an adult magazine. Shyly, I told him the essentials. In response, he encouraged me: "It's okay, isn't it? Draw that kind of stuff while you can. Soon, you won't be able to draw it even when you want to!" I asked him: "When you say 'not being able to draw it', do you mean age?", to which he replied with a smile: "The children will make fun of you at school". I guess he was remembering the experiences of him drawing Sexaroid and Mystery Eve. It was a moment that caught my attention even more than the interview».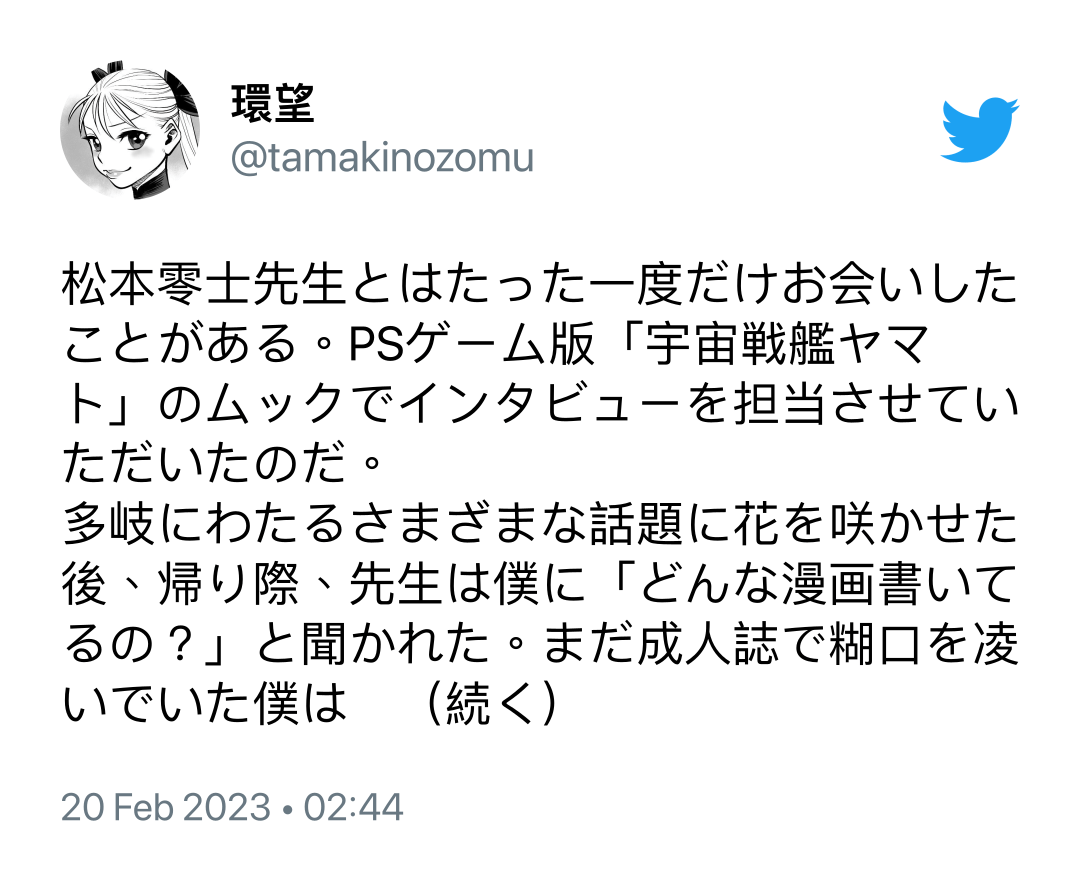 Fountain: NHK NEWS WEB
The entry Legendary mangaka Leiji Matsumoto has passed away was first published on Kudasai.