No Game No Life It is quite a particular franchise, not only because of the fact that almost a decade has passed since the first season of the anime aired and there is no sign of a second season, but because both the story and the illustrations are done by one person. , Yuu Kamiya.
Since he is in charge of both the story and the illustrations, Yuu Kamiya's workload is quite heavy, especially considering that the continuity of the work depends entirely on him. In fact, he was previously accused of plagiarism of other illustrations, something that was verified and corrected by the author, after he requested an official apology. Contrary to what many believe, these accusations are not really the cause of the absence of a second season, since the light novels are still in publication to this day. There just hasn't been any interest from kadokawa for setting up a production committee to take charge of the project.
Anyway,why are we talking today about No Game No Life? No, don't even dream that it's a second season, not yet. It turns out that the author made a curious publication on Twitter where he commented on a complaint that he received through his email, and which said the following:
«Somehow, a foreign reader sent me a direct message saying: "There were people of color in medieval and early modern Europe. Why don't they appear in your work? First of all, Disboard is not in Europe. Were there furries or elves in Medieval Europe? Also, I did add some brown-skinned characters. I wonder if I could understand this criticism if my values ​​were still anchored with those of the West. Or rather, I wonder if I don't understand this complaint because I have stuck to the Japanese criteria».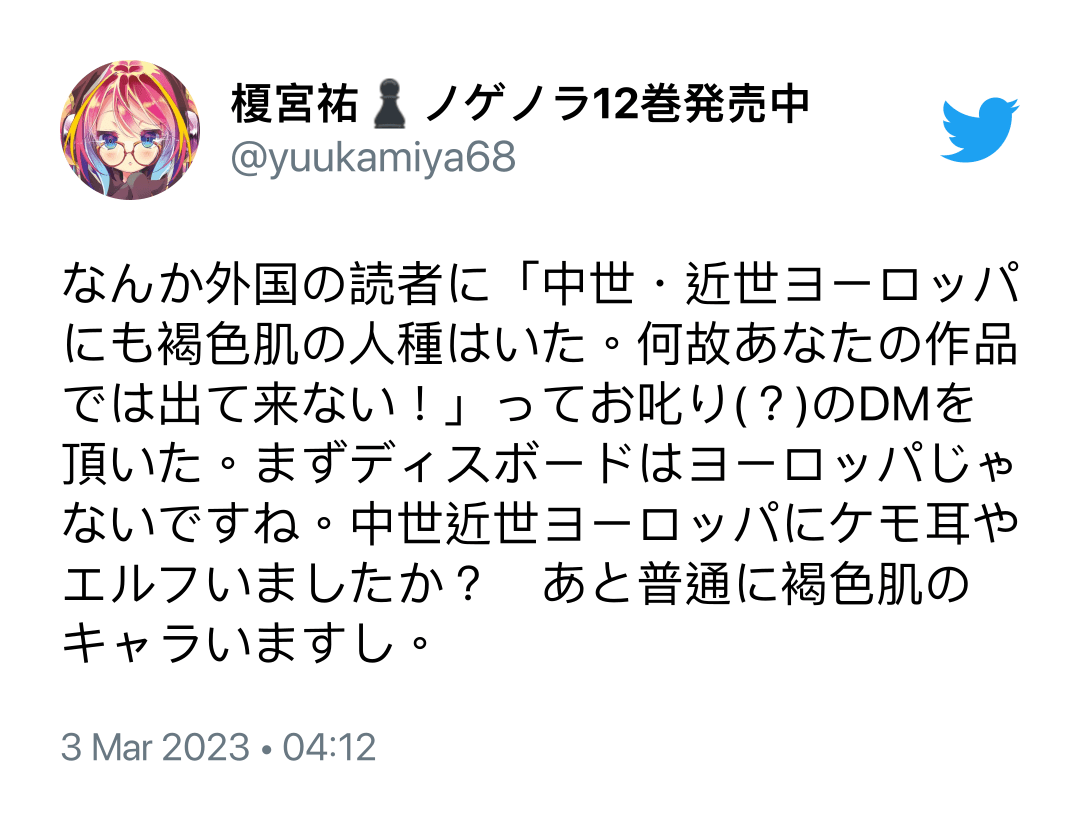 As you read, the author of No Game No Life He then revealed that he had been criticized for not adding people of color to his work. However, something quite interesting is that the Yuu Kamiya is just his pseudonym, since his real name is Thiago Furukawa Lucas. Kamiya was born in Brazil, spent his childhood in the United States, and moved to Japan at age 7, where he has lived ever since. Due to his birth, his legal nationality is Brazilian and, by extension, he is a Latin American. What a fact!
Anyway, usually in these types of articles we collect some comments made by fans in the original publication to see if there is any difference of opinion, however, the complaint they made to him was so out of place that all the comments were in favor of the author.
Fountain: Official Twitter Account
The entry Criticize No Game No Life for not including people of color was first published on Kudasai.