Romance anime are quite popular, after all, love is something universal and we sometimes enjoy experiencing it in fictional stories. Passion, pain, joy, broken hearts and romance are what transform these sagas into factories of emotions for the heart.
So, if you want to immerse yourself in the most exciting plots, it's time to take out your box of tissues and enjoy twenty romance anime that we have selected for you.
The best Romance Anime
1. Clannad (2009)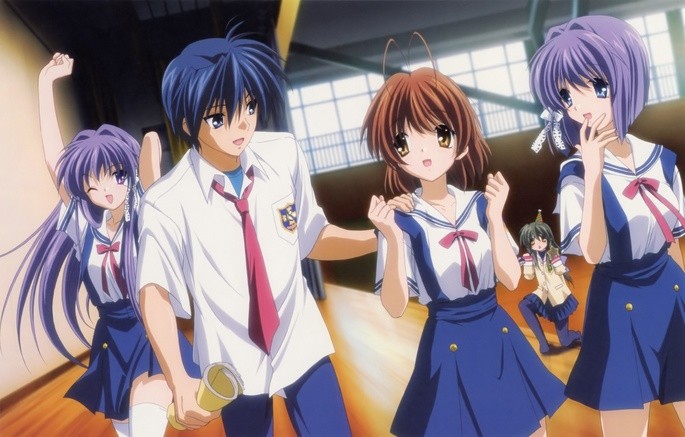 Seasons: 2
Episodes: 48
Available on: Netflix USA and Canada
Clannad is a fun and exciting anime that, along with its sequel Clannad: After Story , is considered one of the best romance series out there. Originally, it was a dating simulator published for PC.
The story revolves around Tomoya Okazaki, a sarcastic boy with an alcoholic and gambling father. Tomoya ends up meeting a girl named Nagisa Furukawa, who wants to open a drama club, even without previous experience. It is there that Okazaki teams up with her new friend, along with four other girls, in order to create a play.
Given its origins, Clannad has strong expressions from the Harem-like anime, although this adds value to the plot. We will meet well thought out and written characters who will seek to win the heart of our protagonist.
Clannad: After Story completely changes the dynamics of the story, presenting us with some of the most devastating situational arcs of this genre. At this point, the plot turns bleak and sad, feeding on events from a world of illusion.
2. Kimi No Na Wa: Your Name (2001)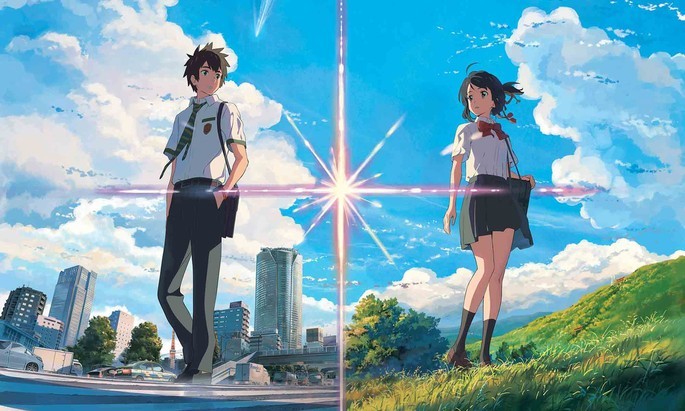 Feature Film
Available on: Netflix
Mitsuha Miyamuzi is a young woman who has spent her entire life mired in a routine of family and school responsibilities in a small town. But that stops when one day she discovers that she has swapped bodies with a boy from Tokyo, far away from the boring village she is so used to.
The boy is Taki Tachibana, who is also confused when he wakes up in the body of a young girl who resides in a remote town.
This pair does not know what kind of magic led them to exchange bodies, but little by little they get to know each other in a more intimate way. The exchanges become regular, and that makes them interfere in the other's life without the intention of changing anything, but rather of improving their circumstances.
They decide to create a system of notes to communicate and rules to follow so as not to intervene too much, thus achieving a positive improvement in the life of each one.
This animated film gained great popularity due to the complexity of its characters and plots along with its beautiful animation, becoming one of the most famous films of Japanese animation in recent years.
3. Fruits Basket (2019)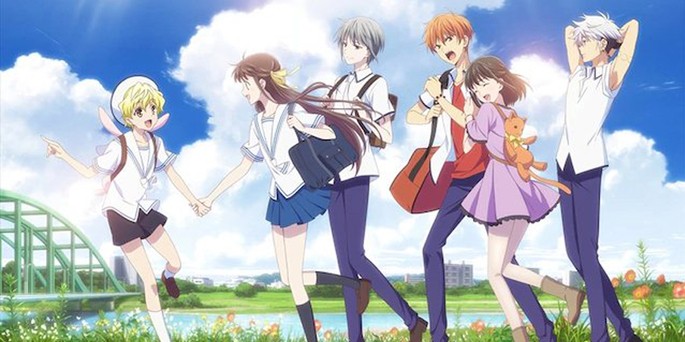 Seasons: 3
Episodes: 63
Available in: Funimation
Fruits Basket is, without a doubt, one of the greatest classics of the shoujo genre . It has elements of drama, comedy and at first it might seem like a reverse harem . But it goes much further.
Tohru Honda, after losing her mother becomes homeless, and begins living in a tent. While studying, he works most of his free hours to make ends meet. But one day, he discovers that the tent is inside the Sohma family's private property.
The Sohma family has a deep secret. Some are possessed by an element of the Chinese zodiac and Tohru is one of the few people who knows this detail. The clan members living in the house offer her help, and during the story, Tohru begins to develop feelings for the most volatile and enigmatic member of the family: Kyo Sohma.
Fruits Basket is a romance anime with some somewhat dark touches, since the stories of its protagonists are dramatic and unfold in great detail. In 2019 it received a well-deserved remake that honors the original work, and its final episode managed to place the series as the highest rated in the romance genre on MyAnimeList . It is a must-see series for any fan of shoujo and romance, but we warn that the tears will not be long in coming.
4. Your Lie in April (2014)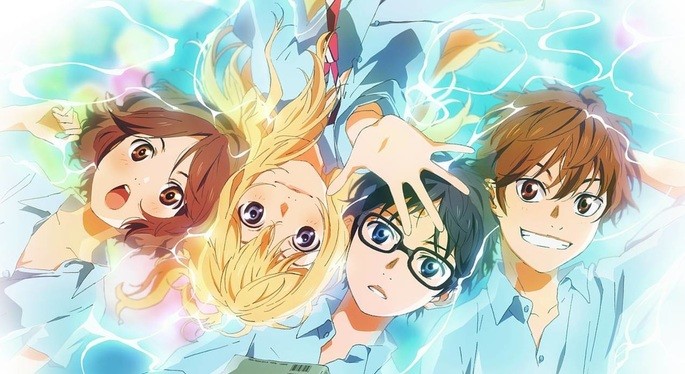 Seasons: 1
Episodes: 22
Available on: Netflix Spain, USA and Canada
The story centers on Kousei Arima, a prodigy pianist who, after suffering deep emotional trauma, stops listening to his own music. It is at that moment that he meets the girlfriend of his best friend, the violinist Kaori Miyazono.
Your Lie in April is an anime about love and life in general. It is the story of two people who connect through music. Kousei is enchanted by an energetic girl full of passion for music, who helps him confront the reality that, despite his talent, he has never had love for anything.
The story and its characters will catch you instantly. In addition, the music that we will listen to throughout the series will serve to express the feelings that our protagonists feel for the other, without being able to say it. Without a doubt, it is one of the most enjoyable soundtracks you will find.
5. Kaguya-sama: Love is War (2019)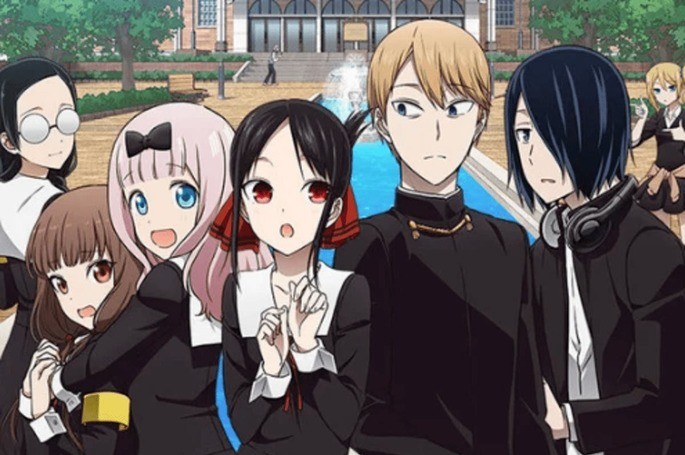 Seasons: 2
Episodes: 24
Available on: Crunchyroll
Kaguya-sama wa Kokurasetai: Tensai-tachi no Ren'ai Zunōsen is one of those standout series of recent years, where humor and hilarious situations reign above anything else.
The writing style and personality of its characters captivates, as the premise follows two seemingly cold teenagers who are in love with each other. The problem is that they are so proud and intelligent that they will try by all means to get the other to confess first.
Kaguya Shinomiya is a beautiful, intelligent and wealthy young woman. She used to be lonely, until she decided to join the student council. There, he met Miyuki, the president of the same, and fell in love instantly. Despite feeling this for Miyuki, she wants to get the boy to confess to her first, and treats the situation as a strategic game between them.
Miyuki Shirogane is extremely intelligent, the best student in the school and the president of the student council. He is in love with Kaguya, but he flatly refuses to tell her, as he is a young man who values ​​appearances and prefers not to get into embarrassing situations.
Kaguya-sama is a series that is sure to get at least a laugh from any viewer, and its characters will sink deep into the fans.
6. NANA (2006)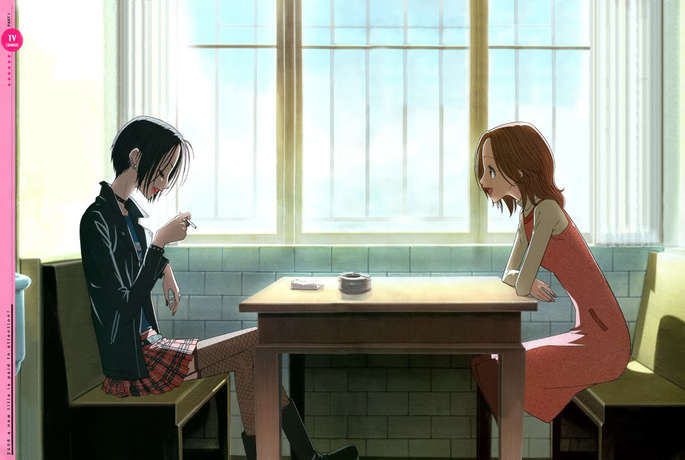 Seasons: 1
Episodes: 47
Available in: Not available on streaming platforms
Nana is for those anime fans who enjoyed it in 2006 a kind of milestone. It is one of the most recognized josei series , and its author created characters that will remain forever in the collective memory.
Nana's story focuses, above all, on the friendship of two women with the same name. We first meet Nana Komatsu, a young woman in love who doesn't know how to fend for herself, and follows the flow of her friends' plans to make decisions. After moving from his small town to Tokyo, he finds himself adrift, until he meets a beautiful woman named Nana on the train.
Nana Oosaki is an independent and decisive woman. She is the lead singer of a punk-rock band called the Black Stones, and upon meeting young Nana Komatsu on the train, she falls in love with her lively and loyal personality. This leads her to nickname her Hachi, after the dog in Japanese history. After a series of coincidences, the two end up sharing an apartment.
The rest of the series focuses on the love affairs of both Nana, getting to know her suitors and love affairs little by little, following them in search of happiness. Nana is an absolute josei classic , and has a soundtrack that will remain in the memory of any fan of Japanese music.
7. Kamisama Hajimemashita (2012)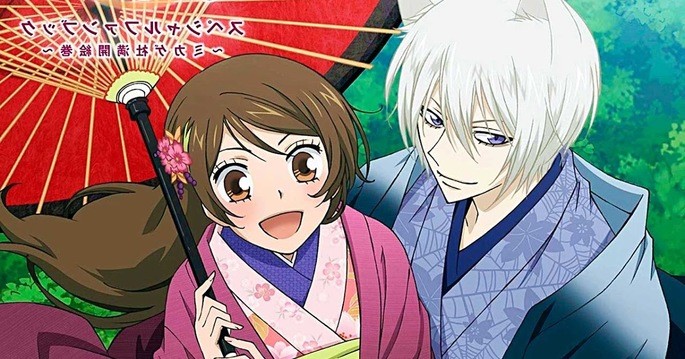 Seasons: 2
Episodes: 25 + 4 OVA
Available on: Crunchyroll, Funimation
Also known as Kamisama Kiss , this is one of those series that many romance fans are going to recommend. It has an unusual plot that deals with spirituality on earth, and its protagonist is charming and sweet.
Nanami Momozono is a high school student who has been abandoned by her father, a man addicted to gambling. Now homeless and without family, he lives on the streets, but remains optimistic that his circumstances will change.
When she meets a man who is afraid of dogs and helps him escape, Mikage offers Nanami his home. Nanani only accepts with shame for her circumstances. Upon arriving at the site, he discovers that it is a sanctuary for the deity of the earth. Confused, she asks Mikage what it means, and Mikage replies that he wants to transform her into the new deity of the earth, since he must retreat.
Nanami will meet Tomoe, Mikage's assistant, with whom she immediately falls in love even though he is a yokai.
8. Given (2019)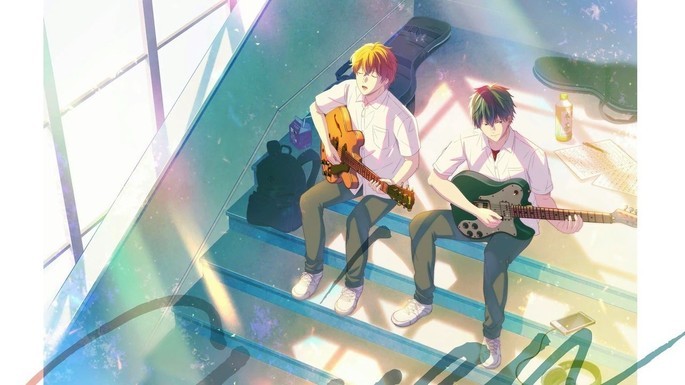 Seasons: 1
Episodes: 11 + Feature Film
Available on: Crunchyroll
We couldn't leave out the most resounding BL anime of recent years. In Given we followed the love story between Ritsuka and Mafuyu, two classmates who didn't seem to have anything in common, until the music brought them together.
Ritsuka is a songwriter and guitarist for a band of his own, and during a break, he happens to run into Mafuyu Sato, a shy young man who needs to repair a Gibson guitar. Soon after, Ritsuka discovers that Mafuyu is a singer prodigy, and recruits him into her band.
In the rest of the story we find out about the past of Mafuyu, who seems unable to write a song to debut as a singer in the band.
Given is an anime where romance develops little by little and very calmly, but the moment the protagonists accept their affection for each other, it is extremely satisfying. In addition, it has a fantastic soundtrack and great scenes during rehearsals and concerts.
In the feature film, we follow the story between Akihiko and Haruki, Ritsuka and Mafuyu's bandmates.
9. Dōkyūsei (2016)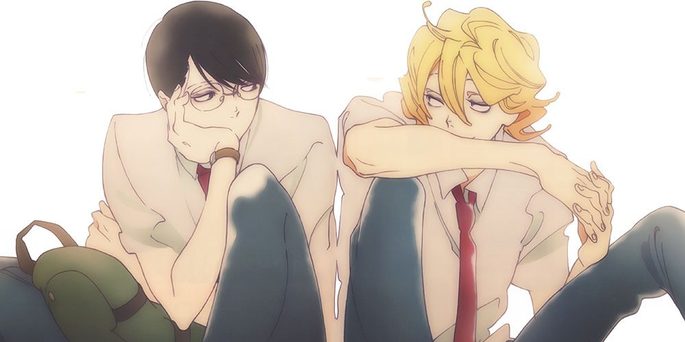 Feature Film
Available on: Amazon Prime USA
Another BL exponent that cannot be missing from the list, the Dōkyūsei film tells the story of the first manga that follows the love of Rihito Sajo and Hikaru Kusakabe.
Hikaru Kusakabe is an impulsive and outgoing young man, who ends up being the tutor of his partner, Rihito Sajo. Sajo is shy, and although they are both practicing for a school performance, he is not very good at it. When Hikaru discovers that Sajo can't read the sheet music well, she decides to help him.
After spending time together, Kusakabe develops a crush on Sajo, and decides to kiss him without warning. Fortunately, the feelings seem reciprocated, and the love story unfolds between the two, navigating their growth as high school students.
Dōkyūsei's manga follows the boys after high school graduation, but the film only focuses on the first year of their relationship. The feature film has an extremely attractive watercolor coloring, which perfectly mimics the drawing of Asumiko Nakamura, its mangaka. The atmosphere of the film is notoriously laid-back and sweet, making it impossible not to fall in love with its leads.
10. Nodame Cantabile (2007)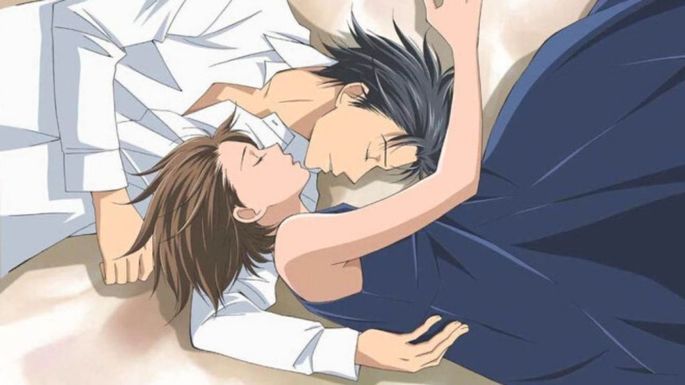 Seasons: 3
Episodes: 45 + 2 OVA
Available in: Not available on streaming platforms
Nodame Cantabile remains a must-see for fans of the romance genre and anyone looking for a fantastic josei to watch.
We follow Chiaki Shinichi, an arrogant young man who is the best student in his music school. He dreams of becoming a conductor, since his whole life has been surrounded by music. But his horizons are limited due to a fear of flying and the ocean, which does not allow him to travel beyond Japan.
Megumi Noda, known as Nodame, is a piano student from the same school. She is known for her eccentricities and for being messy. Despite having an innate talent with the piano, he does not read sheet music, preferring to play by ear. This makes others see her as clumsy.
Nodame falls in love with Chiaki at first sight, but Chiaki's perfectionist finds it difficult to accept the girl's carefree personality. But little by little, they share more and as they learn about each other, a love story full of music unfolds.
If you want to immerse yourself in a musical world, Nodame Cantabile is the perfect series for you. Letting the music enchant you while meeting beautiful and endearing characters is the best way to enjoy a romance.
11. Honey and Clover (2005)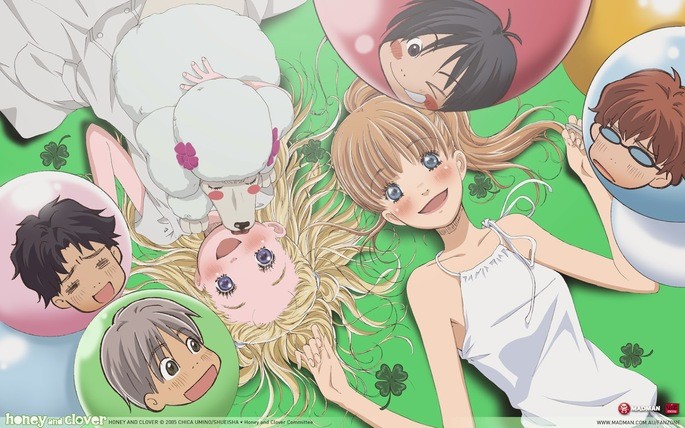 Seasons: 2
Episodes: 36 + 2 OVA
Available on: Crunchyroll
Also known as Hachimitsu to Kurōbā, it is another fantastic example of josei at its finest. The story follows a group of young college students who live together in Tokyo.
One day, they meet Hagumi Hanamoto, the daughter of a relative of an art professor at the university. In this group of three young people, two of them, Yuta and Shinobu, fall in love with Hagumi, but one decides not to force the relationship and maintain their friendship, while the other decides to show his love in unusual ways.
Hagu is a shy young woman, who finds comfort in Takumi, the only boy in the group who doesn't seem to be interested in her. In this love triangle that comes to include one more girl, we follow unrequited love, college graduation, and job hunting.
This series shows the growth and change towards adulthood, along with an unrequited love story that will strike a chord with anyone.
12. Horimiya (2021)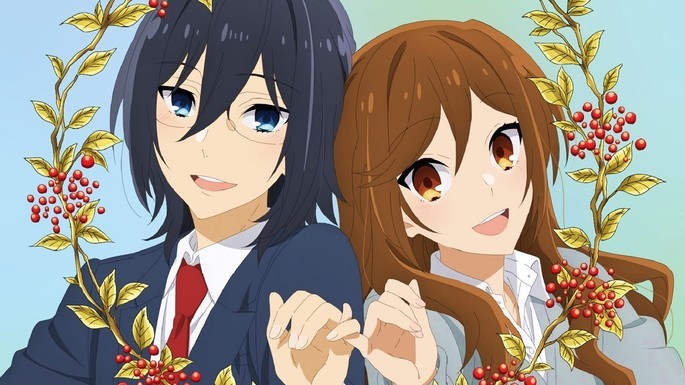 Seasons: 1
Episodes: 13
Available in: Funimation
In 2021, a romantic anime came out that revolutionized many fans. Horimiya, an adaptation of the famous manga Hori-san to Miyamura-kun was a successful demonstration that the interest in romance shoujo has never passed.
With a typical premise of a romantic shoujo , we follow Kyoko Hori, a bright and popular young woman at school who hides something from her classmates. Hori cannot share beyond school with his classmates, since at home he must take care of his little brother and do housework, because his parents work a lot.
One day during a busy afternoon, his little brother comes home to the hand of a teenager with piercings and tattoos, who offered to help him when his nose was bleeding. Hori thanks for helping his brother, and the stranger recognizes her, and introduces himself as Miyamura, his classmate.
Miyamura, during school, wears her hair long to cover her piercings, and is often layered to hide her tattoos. When Hori sees it like this, and Miyamura discovers Hori's face without makeup, they reach an agreement: they will not say anything at school. But their relationship evolves to the point where Hori begins to fall in love.
Horimiya is a sweet and refreshing series about teenage love, with the main characters displaying explosive chemistry.
13. Toradora! (2008)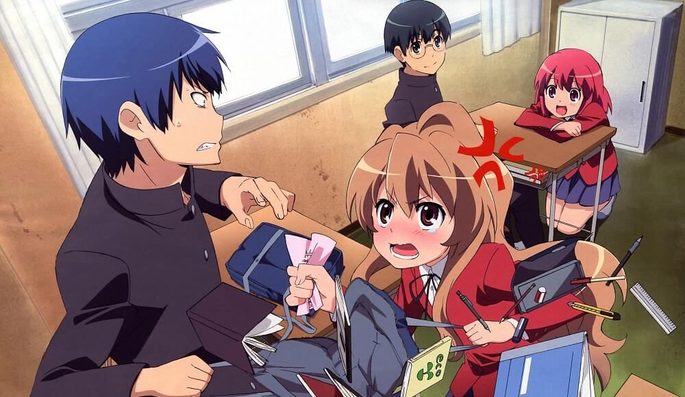 Seasons: 1
Episodes: 13
Available on: Netflix Spain
Toradora! It is a typical romance anime that can be liked by everyone. His story contains elements of romance, comedy, and drama.
This animation tells the story of a couple who began by hating each other, and gradually, begin to develop feelings of pleasure that are transformed into a deep and captivating love story. The elements of this story can be clichéd, but the way it is executed manages to catch the viewer.
The protagonists of the story are Takasu Ryuuji, an intimidating and somewhat gruff young man, the complete opposite of Aisaka Taiga, a small and gentle girl. The fun comes when, deep down, not everything is what it seems. Toradora! It starts with the premise that they both like each other's best friend, asking each other for help to achieve their goals, but this relationship causes Taiga and Ryuuji's feelings to change little by little.
14. Kaichō wa Maid-sama! (2010)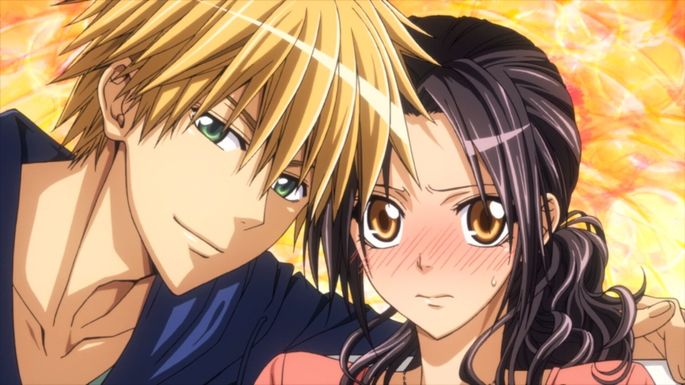 Seasons: 1
Episodes: 26
Available on: Netflix USA and Canada
Maid-sama is one of the most popular romance anime. It becomes more and more fun as the plot develops, mainly due to the various situations that occur due to the interaction of two such complicated protagonists.
The story focuses on two very strong personalities that hide behind different facets until they find the ideal person with whom they can share their weaknesses.
Misaki Ayuzawa is an outstanding student who manages to become president of the student association of a school that had always been for boys. Their goal ends up being to make this place more bearable for women, so we will face a war against boys with bad manners.
However, despite trying to make her behavior a reflection of her values, Misaki works as an employee in a cafe, in order to help her family that is going through serious financial problems. It is there that Takumi Usui, a popular student and Misaki's classmate, discovers her secret and threatens to destroy her reputation.
15. Wotaku ni Koi wa Muzukashi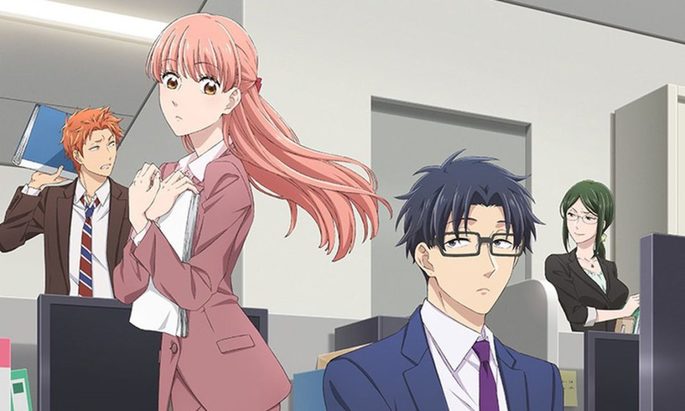 Seasons: 1
Episodes: 11 + 3 OVA
Available on: Amazon Prime, Netflix
Any otaku who wants to watch a series about how difficult it can be to find a mate as, well, otaku , needs to watch Wotakoi. Also known as Love is Hard for Otaku, the series features a very familiar premise for any fan.
Narumi is a young woman who has just found work in a new company after a layoff, and has made a decision. Under no circumstances will he let out that he is a fan of Japanese anime, much less that he is dedicated to illustrating doujinshi during his free time, since that was the reason after his previous dismissal.
But when in the corridor of the office she meets Hirotaka, her childhood friend, as otaku as her, she panics. That same afternoon he begs him to hide his hobbies, but Hirotaka asks him about his love life. She tells him that he is a complete failure, as is to be expected, and the boy suggests that they start dating.
These two seem made for each other, but one is obsessed with video games, while Narumi spends her entire salary buying collectible figures. Overcoming these obstacles will only be achieved with a strong bond, and Hirotaka seems willing to do anything to win the woman he has loved since childhood.
With a colorful cast of 4 different types of fans, Wotakoi always has something for those who are familiar with that world.
16. Ore Monogatari !! (2015)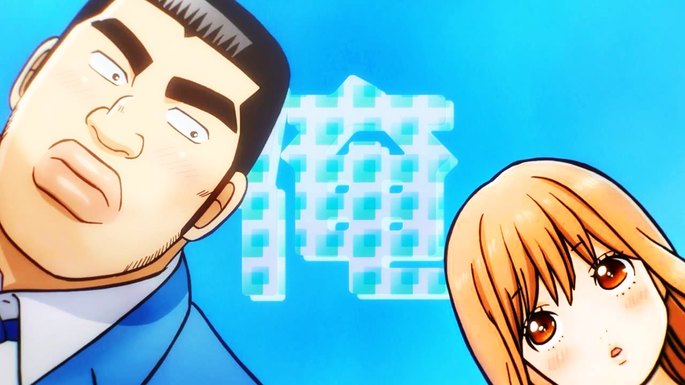 Seasons: 1
Episodes: 24
Available on: Crunchyroll
Pray Monogatari !! is a typical romance anime that brings us the relationship that is built in each episode between the protagonists.
Takeo Goda is a boy with a very strange appearance. He is someone very big, but he has a good heart. This makes him very popular with the other kids at school.
Despite his good status, he is not popular with girls. Actually, many of the women Takeo has liked have approached him to meet his handsome and quiet best friend.
This is constantly repeated, until the day Takeo meets Rinko Yamato, who seems to have fallen in love with him at first sight. The main message of Ore Monogatari !! is that knowing how to accept yourself as you are, you will be able to find someone who likes you for who you really are.
17. Kimi Ni Todoke (2009)
Seasons: 2
Episodes: 38
Available on: Crunchyroll
Kimi Ni Todoke is a very particular anime due to the way it shows the classic elements of the romance genre. Starting with its characters, through animation and its story, From Me to You is an anime that will touch the heart of any fan of the romantic genre.
Sawako Kuronuma is a girl quite misunderstood and known as the "strange girl" by her classmates. This is due to its tremendous resemblance to the Japanese character Sadako, nothing more and nothing less than the demonic ghost of the Ring .
And on the other hand, there is Kazehaya Shouta, the typical popular boy known for being generous, which leads to him being one of the few people who dares to speak to the strange Sawako.
Once these two people begin to develop their feelings, they realize that differences are nothing if they complement each other, helping each other to witness the best things in life.
18. Lovely Complex (2007)
Seasons: 1
Episodes: 24
Available on: Crunchyroll
Lovely Complex is packed to the brim with romantic moments and lots and lots of comedy.
Atsushi Otani and Riza Koizumi are classmates, but they are the absolute opposite of each other. While Otani is a boy who is usually perceived as someone's son, that is, he is extremely short, Riza is seen as an Amazon, which leads them to even earn the nickname of the odd couple.
They usually argue over nonsense, but Otani and Riza gradually discover that they have many things in common, they become best friends and develop a complex and adorable romance.
19. Tonikaku Kawaii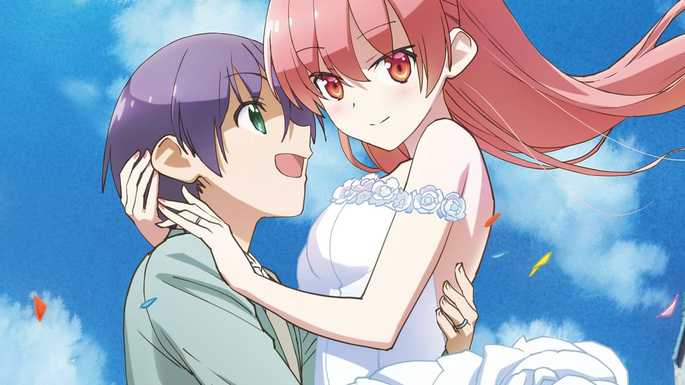 Seasons: 1
Episodes: 12 + OVA
Available on: Crunchyroll
Also known as ToniKawa , this anime is made for anyone who hates the constant turns of couples who do not accept that they like each other. This series begins with a wedding.
Nasa Yuzaki is an intelligent young man whose fate improves, ironically, after being hit by a car. During the incident, he meets Tsukasa, a woman who tries to save him due to the mistaken belief that he had jumped in front of the truck that hit him.
Nasa is unable to show his appreciation with actions, so he immediately confesses his unconditional love. The woman, strangely, accepts his confession, but demands a marriage from him before they can start dating.
Thus begins the peculiar story of a couple who start their relationship completely the other way around. ToniKawa has multiple pop culture references, lots of humor, and fun.
20. My Next Life As a Villainess: All Routes Lead to Doom!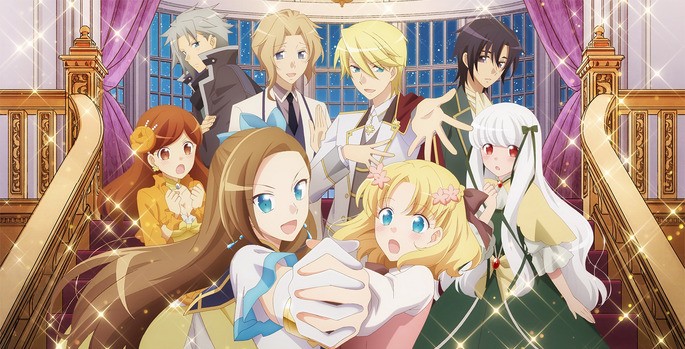 Seasons: 2
Episodes: 24
Available on: Crunchyroll
Another series for video game fans, HameFura, as the Japanese know it, follows the adventures of Catarina Claes. Catarina is the daughter of a noble couple, but in reality, her soul does not belong to her.
The soul of the person who calls herself Catarina is actually that of an average otaku girl who has just passed away. And Catarina is not a real person, she is a character in the last video game that she enjoyed before the accident.
The problem is that she is not the main character, but is actually the villain of the video game. And, because he knows how it ends, the fate that awaits him as Catarina is not at all positive. So he has decided to change his future, and move the pieces in such a way that they guarantee him to continue living.
When your attitude begins to change, everyone around you takes notice. She goes from being cold and calculating to being kind and caring, and this means that anyone who knows her will fall madly in love with her. Be it male or female. Now, Catarina does not know that she has at least 6 suitors, because in reality, as far as feelings go … she is extremely dense.