Anime is a medium that has spent many years perfecting both the art of its animations and its scripts and adaptations of novels, manga, and video games. In this list we want to give a place to several series and movies that we consider to be a must for any fan of the Japanese animation genre. We follow an order based on their rating on MyAnimeList, with minor modifications based on importance and the mark that various of these stories left on the collective memory. Without much further ado… Let's get started!.
List of the best anime of all time.
1. Fullmetal Alchemist: Brotherhood (2009)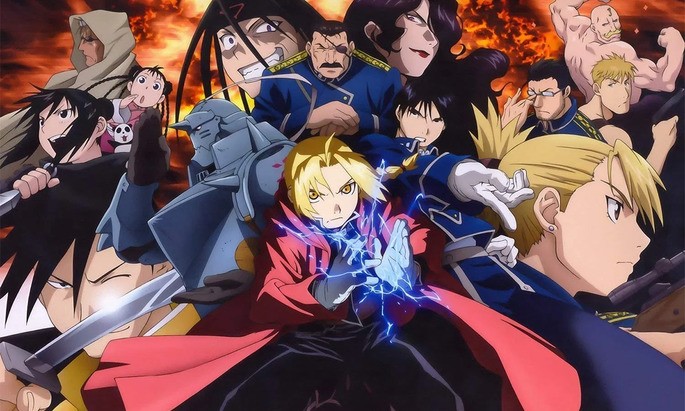 Genre: Action, Adventure, Comedy, Drama, Magic, Fantasy, Shounen
Studio: Bones
Two brothers search for the Philosopher's Stone after trying to bring their mother back and losing too much in the process. The eldest, Edward Elric, becomes a military man to gain access to investigative resources that bring him ever closer to the truth. One of the best anime of the last 20 years, with a solid story, endearing and interesting characters. This version is the "complete edition" of the story, respecting the manga and its development.
2. Shingeki no Kyojin (2013)
Genre: Action, Mystery, Drama, Fantasy, Shounen
Studio: WIT Studio / MAPPA
In a world similar to our own, humanity finds itself trapped behind walls that separate them from the greatest threat they have ever faced: the titans, giant beings that feed on humans. In this modern-day classic, we follow a story that goes far beyond the Titans and their horror, exploring human nature and the force behind conviction. The anime is still in broadcast to adapt the last parts of its story to the screen.
Attack On Titan: Chronological order, Anime, Movies and Ova.
3. Hunter x Hunter (2011)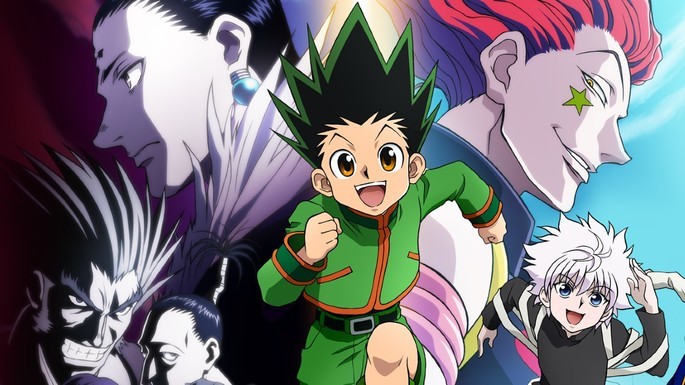 Genre: Action, Adventure, Fantasy, Shounen
Studio: VIZ Media
Gon Freecs, an enthusiastic young man looking to follow in his father's footsteps, decides to take the hunter's test to find his trail and see him again. During this test, he will meet a group of people who will support him even though there can only be one winner. Hunter x Hunter is a classic that is impossible not to mention, because its fans insist that if the work were finished, it would be the best shounen manga of all time. The 2011 anime encompasses much more than the 98 anime and adapts more than half of the original story.
4. One Piece (1999)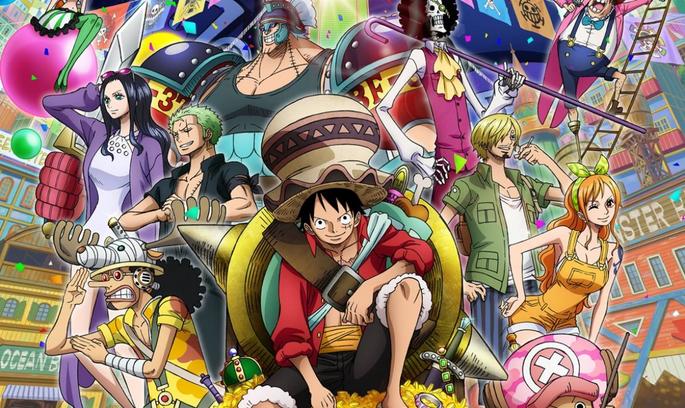 Genre: Action, Adventure, Comedy, Drama, Fantasy, Shounen
Studio: Toei Animation
One of the most beloved and long-lived anime series, One Piece follows the adventure of Luffy D. Monkey, a young enthusiast who wants to become the best pirate in the world, and his way to do it will be to find the legendary treasure, the One Piece, left behind by Gol D. Roger, the Pirate King. However, Luffy is not the only pirate in the world who knows of his existence, as the mere concept of something like One Piece brought about the resurgence of the pirate era.
Order to watch One Piece Anime , Movies and Ova.
5. Akira (1988)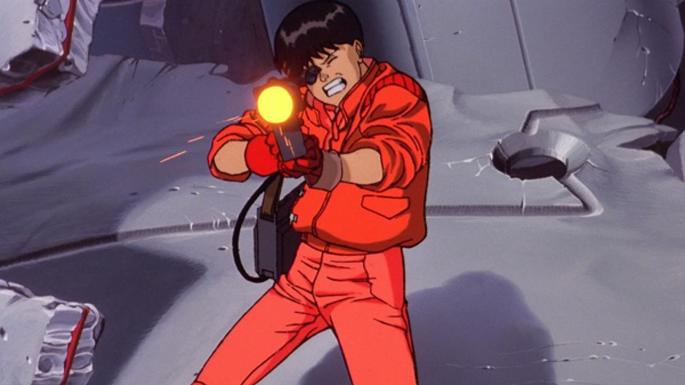 Genre: Action, Military, Sci-Fi, Adventure, Horror, Supernatural, Seinen
Studio: Tokyo Movie Shinsha
One of the most important classic films in the history of animation. Despite his years, he is still a reference for the cyberpunk genre as we know it.
In a futuristic world where Japan suffers the consequences of a scientific experiment carried out on a young man, the new Tokyo, known as Neo-Tokyo, is full of violent gangs, not to mention the constant attacks against the government.
Shoutaro, the leader of one of these gangs, becomes involved in a conspiracy. His best friend Tetsuo begins to manifest psychokinetic abilities that could threaten the country and everyone around him, and the government looks for a way to apprehend him, whatever it takes.
6. Dragon Ball (1986)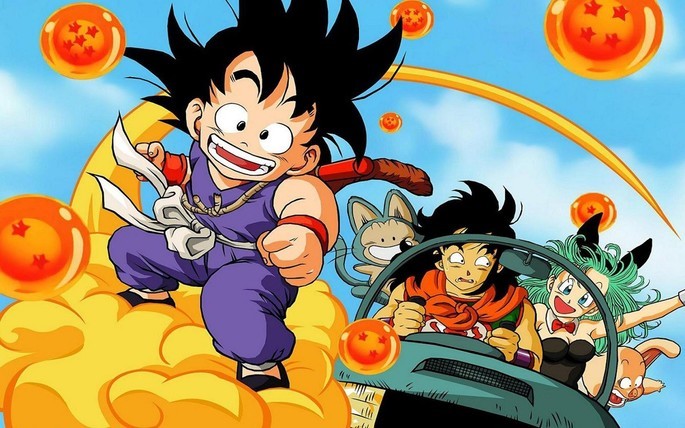 Genre: Adventure, Comedy, Fantasy, Martial Arts, Shounen
Studio: Toei Animation
Dragon Ball is one of the most easily recognizable anime series in history. Being a work that has remained on the air with different seasons, spin-offs, sequels and movies, there is no person in the world who is not aware of its existence. The original series tells the origin of Son Goku, a young man who lives in the forest and who, thanks to a young woman named Bulma, embarks on a journey to search for the magical dragon balls.
7. Sailor Moon (1992)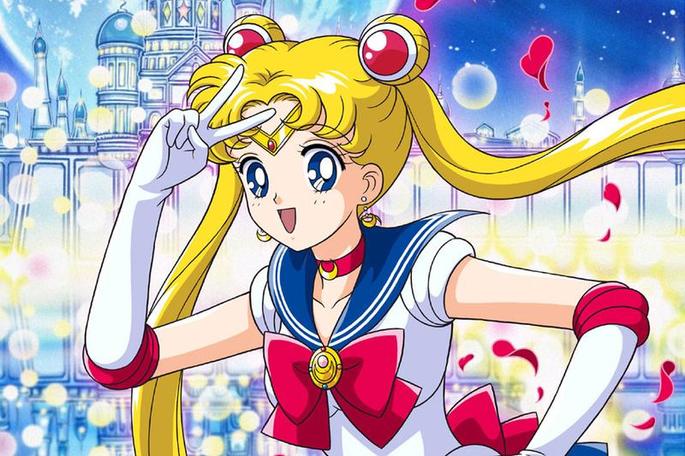 Genre: Magic, Romance, Shoujo
Studio: Toei Animation
Usagi Tsukino is a clumsy, weepy young woman who isn't very good at studying, but her life takes an unexpected turn when she saves a black cat with a moon mark on its forehead. The cat, named Luna, explains that meeting Usagi was not accidental, as she is destined to become Sailor Moon, the guardian of good tasked with protecting the earth. Sailor Moon is the pioneer series in the creation of magical warriors and the mahou shoujo genre as we know it, so it could not be missing from this list.
8. Naruto (2002)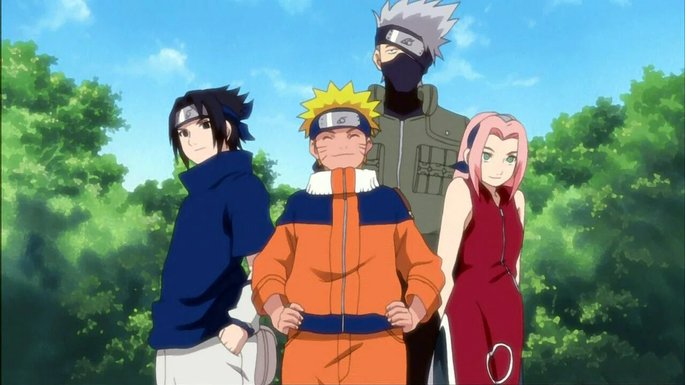 Genre: Action, Adventure, Comedy, Martial Arts, Shounen
Studio: Studio Pierrot
Naruto Uzumaki is a young orphan who has always been outcast by his peers. Despite being lonely, he has an infectious enthusiasm, and his childhood dream has always been to become the most important political figure in the village to earn the respect of everyone around him: to be the Hokage. However, he must first become a competent ninja, and that is no easy task. Naruto is one of those modern classics that many anime fans recognize as his first experience with shounen, and he will forever hold a special place in everyone's hearts.
9. Kimi No Na Wa (2016)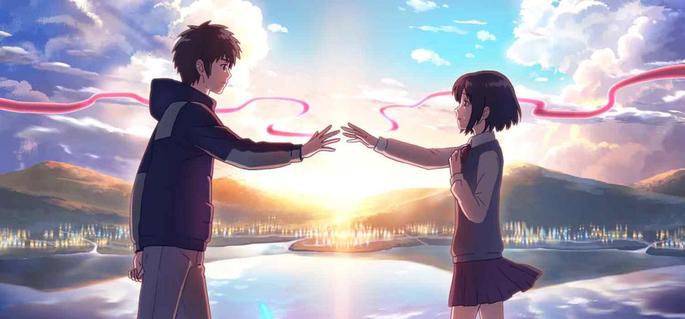 Genre: Romance, Supernatural, School, Drama
Studio: CoMix Wave Films
In this romantic comedy we meet Mitsuha, a young woman who lives in the countryside and idealizes life in the city. She dreams of leaving school soon so she can go to university in Tokyo. Then there is Taki, a high school boy living in the capital, who seems to take for granted everything that he can enjoy thanks to this window.
They both start swapping bodies one day, and by living in each other's perspective, they learn to appreciate what they have, and create a deeply emotional connection between them. One of the most beautiful animations in recent years with a beautiful and romantic story, Makoto Shinkai inadvertently created a modern classic.
10. Neon Genesis Evangelion (1995)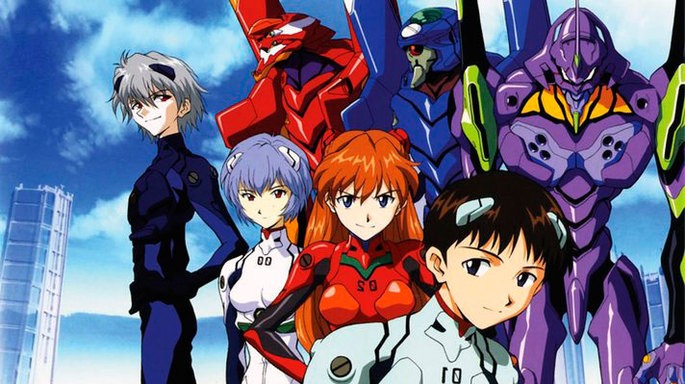 Genre: Action, Science Fiction, Psychological, Drama, Mecha
Studio: Gainax, Tatsunoko Production
Evangelion is one of those classics that everyone knows, and that created a genre of its own. The story follows Shinji Ikari, a young motherless boy with a distant and abusive father who forces him to become part of the "chosen children" experiment. Japan has fallen to supernatural attacks from above, and for years the government has tried to build humanoid machines to combat the so-called Angels. Shinji is one of the few human beings who is capable of piloting the robots, called Eva, but the simple task will come with an immense psychological cost when loneliness, depression and doubts eat away at him.
11. Spirited Away (2001)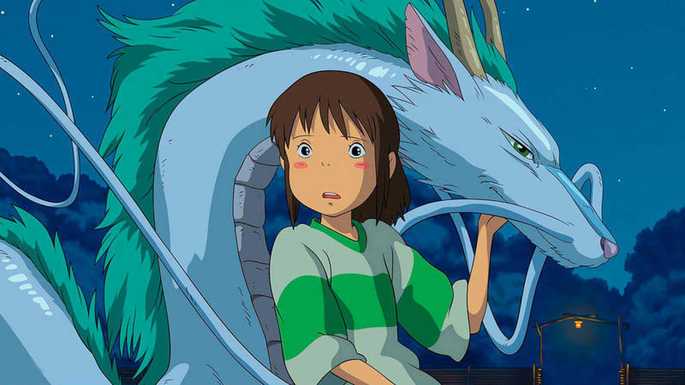 Genre: Adventure, Supernatural, Drama
Studio: Studio Ghibli
Known in English as Spirited Away. Chihiro is a spoiled girl who, during a move, comes across an abandoned amusement park on the way. Her parents investigate curiously, but seeing that there is freshly prepared food, they sit down to eat, without asking permission. Chihiro tries to stop them, but soon after she discovers that they have turned into pigs and that as night falls, the amusement park comes to life and transforms into a world full of spirits and creatures. The only anime film to win an Oscar, Spirited Away is a must-see for moviegoers.
12. Cowboy Bebop (1998)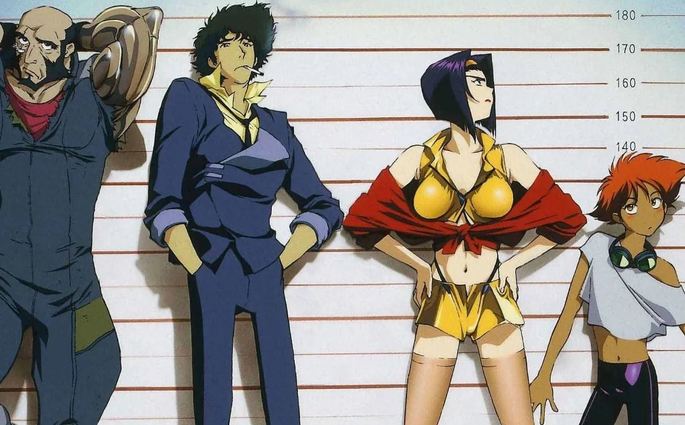 Genre: Action, Adventure, Comedy, Drama, Science Fiction, Space
Studio: Sunrise
Cowboy Bebop is one of the mandatory stops for any anime fan. Apart from being a short series, with a highly satisfying ending, it is one of the most beloved futuristic classics by fans. By 2071, humanity has colonized various planets and moons in the solar system, abandoning those left behind on Earth, which is now uninhabitable. Two of these stragglers travel aboard the Bebop ship. Spike Spiegel and Jet Black are a couple of bounty hunters, who travel the galaxy looking for money.
13. Monster (2004)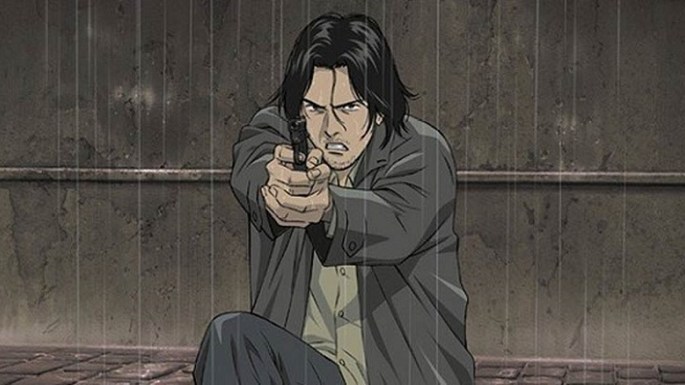 Genre: Drama, Horror, Mystery, Police, Psychological, Seinen, Thriller
Studio: Madhouse
This psychological thriller follows Kenzo Tenma, a doctor who decides to put his morals above his superior's instructions, saving a child's life instead of treating an influential politician. This decision costs him his job, as well as his fiancée and his future full of opportunities.
Shortly thereafter, Tenma is mired in depression and the stress of having lost everything he knows, when he discovers that a dangerous psychopath named Johan is on the prowl. After doing some research, Tenma discovers that this criminal is the same boy whose life he saved, and decides to stop him, no matter what it takes.
14. Koe No Katachi (2016)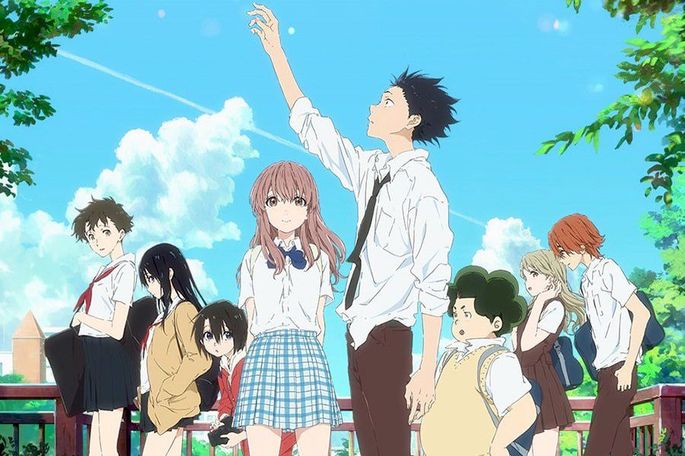 Genre: Drama, School, Shounen
Studio: Kyoto Animation
The story follows a young man who, as a child, was part of a group of bullies who non-stop harassed a girl who had just transferred to school. The girl had hearing problems, and after a lot of stress and losing one of her hearing aids, she ends up changing schools. Now as a teenager, he finds the girl again, and the film is based on following his redemption and his path to forgiveness and mutual understanding. This film explores loneliness, depression, and forgiveness, and is one of the most introspective and interesting films in recent years.
15. Boku No Hero Academia (2016)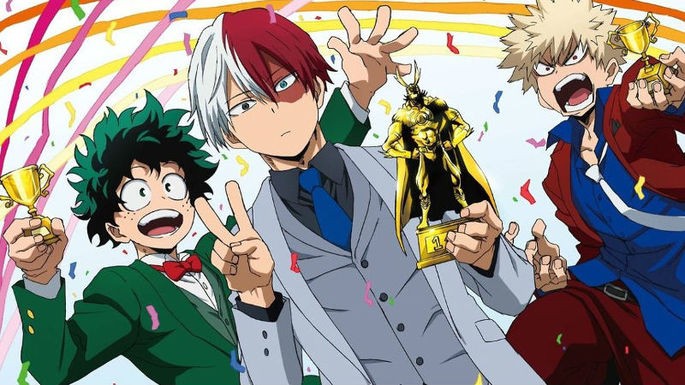 Genre: Action, Comedy, School, Shounen, Superheroes
Studio: Bones
Izuku Midoriya is a young man who met disappointment very early in his life. In a society full of superheroes, he was born without any special abilities. But despite this predicament, Izuku hasn't given up on his dream of being a hero. This strong conviction, along with a fateful encounter with the greatest hero in history, All Might, will lead him down the fast path to the most prestigious school of heroes, UA, where he will have to test his new skills against hundreds of applicants in order to be accepted.
16. Slam Dunk (1993)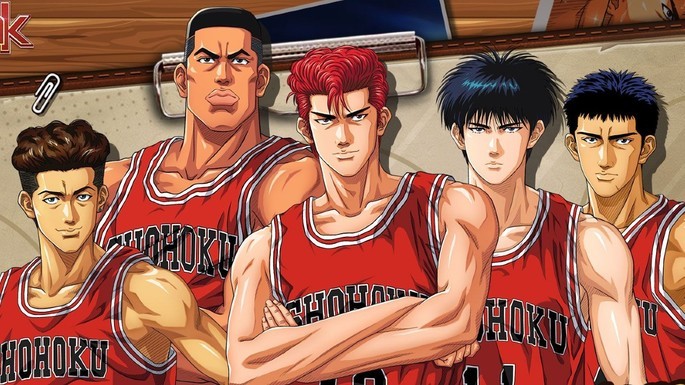 Genre: Comedy, Drama, School,
Studio: Bones
Hanamichi Sakuragi has never had good luck with women, and he thinks that if he changes schools, things could change, but they don't. She soon discovers that his reputation for having a difficult temper and looking like a foreigner follows him wherever he goes. One day, he meets Haruko Akagi, who approaches him to ask if he is interested in basketball. Hanamichi hates the sport, but lies, to please the girl. But lies have short legs, and when he tries to show off his height and his skills, he ends up missing the shot at the rim. Despite this, Haruko insists on putting him on the team, since his height and skills will make them go far.
17. Death Parade (2015)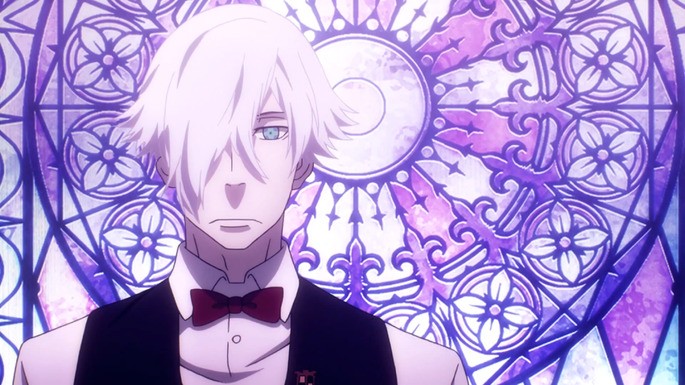 Genre: Mystery, Psychological, Drama, Thriller
Studio: Madhouse
This series explores human nature put under a magnifying glass and extreme pressure. After death, people enter a kind of purgatory called Quindecim, where they will be judged by Decim, the impartial judge who will decide, after a game of chance, if they go to heaven or hell.
In the story we will discover couples who are capable of lying and betraying each other to win the favor of the judge, young people who will do everything possible to win, and real monsters who will try to convince Decim that they are the opposite.
18. Ghost in the Shell (1995)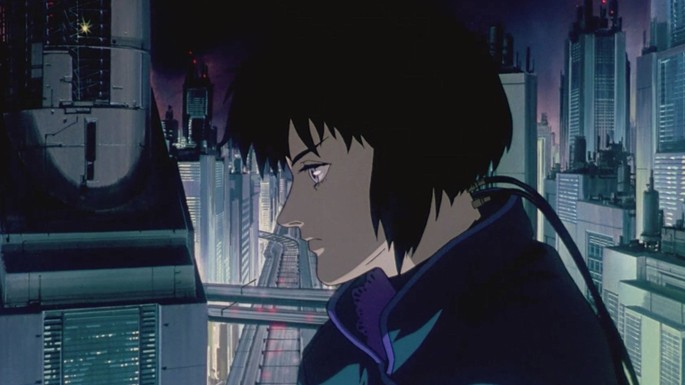 Genre: Action, Mecha, Police, Psychological, Science Fiction, Seinen
Studio: Production IG
This is a classic of Japanese animation, with elements of cyberpunk and futurism worthy of its time. In the year 2029, the city of Niihama has evolved into a technologically advanced metropolis and thanks to improvements at the cybernetic level, all citizens can choose to replace their limbs with robotic parts.
The world is more connected now than ever, and the protection of the security of citizens against terrorism, corruption and other crimes, is in charge of section 9 of public security. Motoko Kusanagi, the Section Major, is investigating the case of a mysterious hacker who is endangering the memories of the general public.
19. Fruits Basket (2019)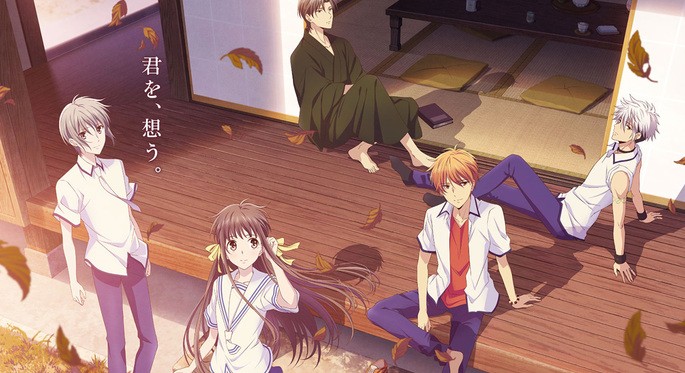 Genre: Comedy, Drama, Romance, Shoujo, Slice of Life, Supernatural
Studio: TMS Entertainment
Tohru Honda does not consider herself an unlucky young woman, despite having to live in a tent with all her belongings during a storm. When the owners of the property where she set up the tent find her, they discover that she is a classmate, and they offer her shelter at the Sohma house. Little by little, Ella Tohru will meet different members of the family that offered her shelter, but thanks to an unfortunate event, she will also discover her secret. If they are hugged by the opposite sex, they transform into Chinese zodiac animals. And Tohru Honda may be exactly what this family needs to turn their fortunes around.
20. Loud! (2007)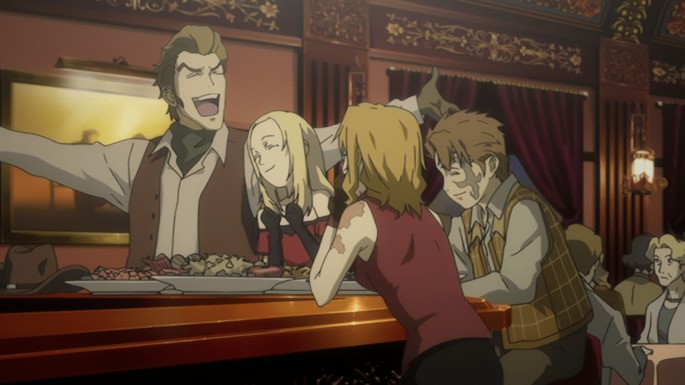 Genre: Mystery, Action, Comedy, Historical, Supernatural
Studio: Brain's Base
Adapted from a novel of the same name. Baccano! follows the various stories of multiple protagonists over a period of time, covering a fateful train ride from Chicago to New York marked by tragedy and death.
Everyone involved in this story will have the pleasure of meeting the eccentric Isaac and Miria. They are petty thieves who try to restore the balance between reality and the criminal world by giving back to the poor and choosing very particular targets. This short series is one of the best, despite the confusion of its narrative, it is inevitable to fall in love with the protagonists and want to discover the mystery behind the events on the train.
21. Princess Mononoke (1997)
Genre: Action, Adventure, Fantasy
Studio: Studio Ghibli
This beautiful classic touches on themes to reflect on nature and the damage that humanity can do to it. We follow Prince Ashitaka, a promising and good-natured young man who risks his life to protect his tribe and receives, in return, a curse that can kill him.
Ashitaka will have to travel to find a cure, but along the way, he will come across a village that is trying to wipe out the forest creatures in order to expand their urban area.
Meeting San, a human connected to nature on a spiritual level never seen before, Ashitaka will have to learn about the forest, its spirits, and how much humans must do to learn to respect them.
22. Jujutsu Kaisen (2020)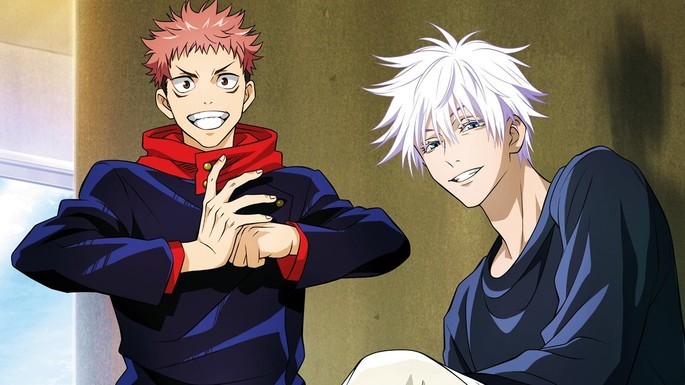 Genre: Action, Adventure, Fantasy
Studio: MAPPA
Itadori Yuuji has always wanted to do good. His grandfather, before passing away, asked him to help people live a full life, and he has chosen that as his reason for continuing to live. But the moment to test his conviction comes when something goes wrong at an occult club meeting one night, and his classmates unleash a curse on the school.
Yuuji is athletic and willing to fight, but a magic user tells him not to try, or he will get hurt. Turning a deaf ear, Yuuji decides to consume the cursed item (a mummified finger) to gain the power to fight.
What he doesn't know is that that finger belonged to Ryoumen Sukuna, a powerful curse that now uses it as a body. Thanks to this, Itadori gains physical and magical abilities, and also earns the hatred of all the experienced wizards within the magical school system.
23. Death Note (2006)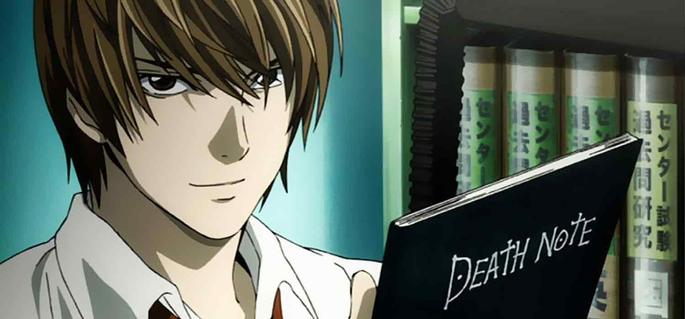 Genre: Mystery, Police, Psychological, Supernatural, Thriller, Shounen
Studio: VIZ Media
Ryuk, a shinigami bored with nothing happening in the human world, decides to randomly drop a Death Note in a school. This notebook gives him the power to kill, without a trace or consequences, whoever he finds it. All you need is a full name and a mental image of his face. The one who picks it up is Light Yagami, a young man with very rigid convictions about criminals and how to punish them. Soon, Light Yagami becomes the vigilante Kira, and begins a game of cat and mouse with the police involving Japan's best investigator, an eccentric young man named L. Death Note is one of the most important and interesting series in recent times. two decades, full of intrigue and unexpected twists.
24. Howl's Moving Castle (2004)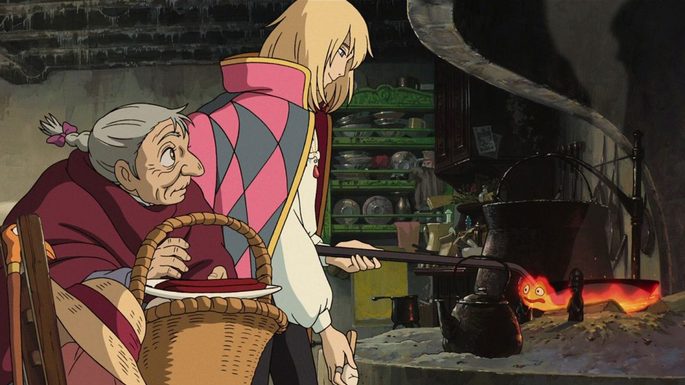 Genre: Adventure, Drama, Fantasy, Romance
Studio: Studio Ghibli
Sophie Hatter is a young woman living a normal life, until a fateful encounter with a witch transforms her into an old woman. Following this, the mysterious wizard Howl shows up at her Howl's Moving Castle to help her find a solution to her predicament, and along the way Sophie meets the quaint little friends of a lonely wizard.
25. Odd Taxi (2021)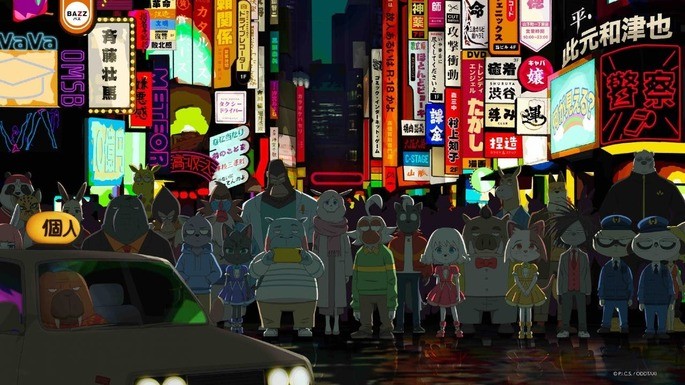 Genre: Mystery
Studio: OLM, PICS
In this anything but ordinary story, we follow the uninteresting life of Odokawa, a taxi driver. His day to day is quiet, and he spends his time touring the city meeting eccentrics and different characters along his travels. However, his job gets him involved in a mysterious disappearance case, and little by little he will realize that everything the case has in common with him has to do with his regular clients.
26. Saint Seiya (1986)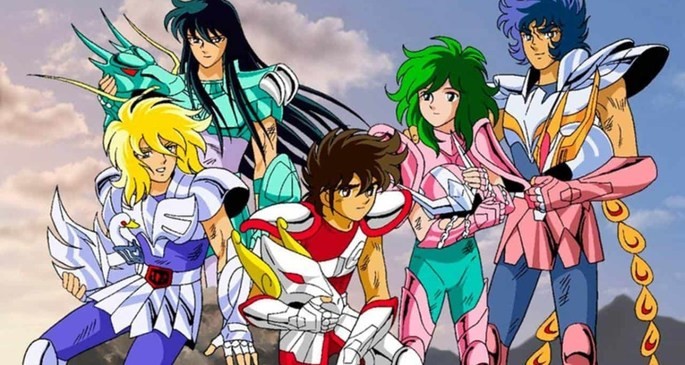 Genre: Action, Fantasy, Sci-Fi, Shounen
Studio: Toei Animation
Since ancient times, a group of brave knights were tasked with protecting Athena, the goddess of intelligence and war. These gentlemen became known as the Saints, and in modern times, a new group of young men is being sought after. Seiya, an enthusiastic young man wants to inherit the Pegasus armor, and he does not intend to allow anyone to take that position away from him. After six arduous years of training, he finally gets the reward from him, and he is appointed Athena's protector. In this anime classic, we follow the path of the hero that Seiya undertakes to protect Saori.
27. Jojo's Bizarre Adventure (2012)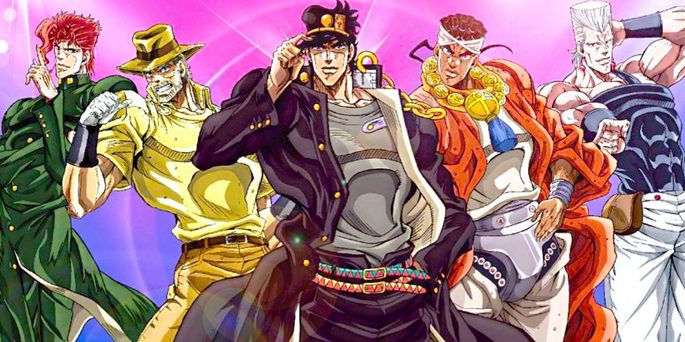 Genre: Action, Adventure, Supernatural, Vampires, Shounen
Studio: David Production
One of the most recognized series of the last decade, Jojo's Bizarre Adventure is a story of revenge and overcoming that transcends its years.
With multiple arcs, spin-offs, and seasons, Jojo's Bizarre Adventure tells the story of Joseph Joestar, a young man who discovers an ancient mask buried in his grandparents' legacy. This leads him to understand that his destiny is to kill the Pillar Men, mystical beings with incredible powers. He will have to go on a journey to face his archenemy, Dio.
28. Hajime No Ippo (2000)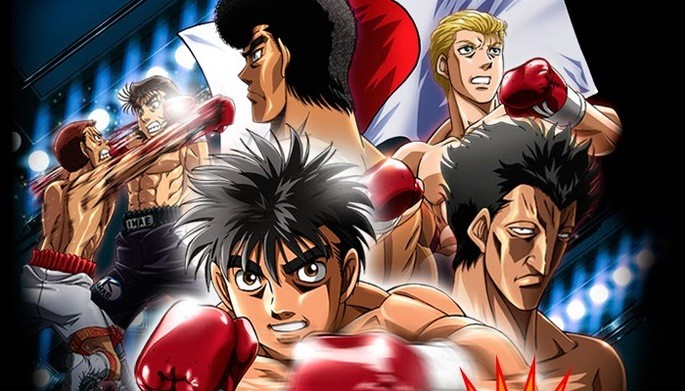 Genre: Comedy, Sport, Drama, Shounen
Studio: Toei Animation
In this classic sports anime we follow Makunouchi Ippo, who only knows being the laughingstock of his classmates. They beat him up, force him to run errands, and abuse his good heart. He has always wanted to change, but the will never comes.
But all that changes one day when, in the middle of a physical attack from the bullies, Mamoru, a boxer, appears. After recovering from his injuries, Ippo finds himself fascinated by the sport and interested in trying to change his life that way. Mamoru gives him a task that he must complete in a week, and Ippo, finally with a purpose, will do his best to become stronger and show everyone what he is capable of.
29. Steins;Gate (2011)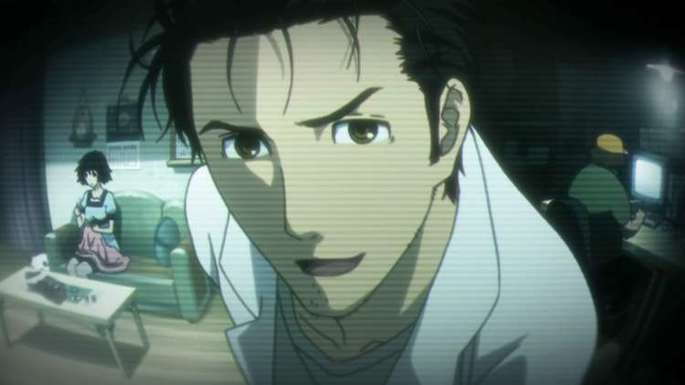 Genre: Thriller, Science Fiction
Studio: White Fox
Rintaro Okabe, a self-proclaimed mad scientist, finds himself involved in a dangerous conspiracy. This includes time travel and a tragedy that he will try to prevent over and over again. When Okabe and his group of eccentric friends discover that a microwave can send emails to the past, they begin to alter the flow of history, and may even prevent a tragedy that touches them very closely.
This series is the quintessential science fiction anime most recognized by fans. However, the story only adapts one of the possible endings of the visual novel on which it is based, so we must insist that you should first play the visual novel before watching the series if you want to have a more complete experience.
30. Kimetsu no Yaiba (2019)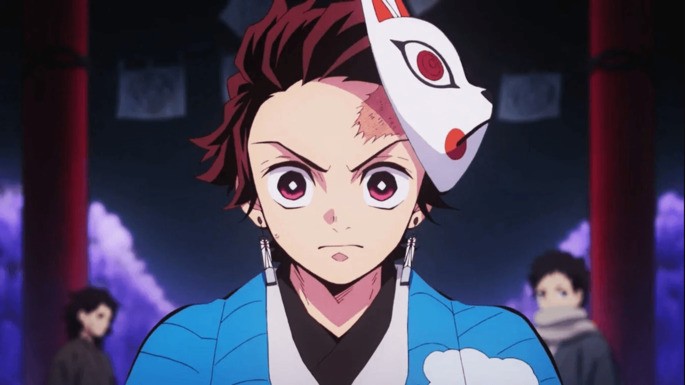 Genre: Action, Historical, Shounen, Supernatural
Studio: ufotable
Tanjiro Kamado is the breadwinner of his family, having lost his father. He is in charge of selling coal to support his family, and during one of his errands, he spends the night away from home after feeling the presence of demons in the forest. Upon returning home, he finds his entire family murdered, except for his sister Nezuko, who has been transformed into a demon.
This anime has one of the strongest animations in recent years, and Tanjiro is not a protagonist that we usually see frequently, since he is a sensitive, empathetic and sweet boy by nature.
31. Code Geass: Hangyaku no Lelouch (2006)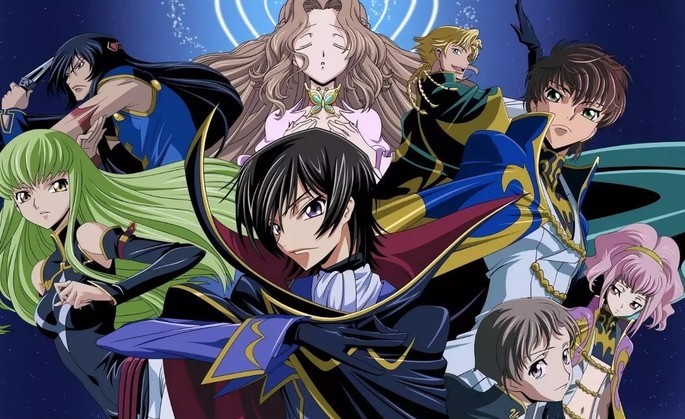 Genre: Action, Science Fiction, Drama, Mecha, School
Studio: Sunrise
Japan, having lost its independence as a nation, is part of the Britannian empire. The colony is now called Area 11, and its inhabitants now have to survive in ghettos. Although the majority of the population accepts this development, there are rebel factions that refuse, and fight for independence. This series unfolds after Lelouch, a young heir to the Britannian empire, joins the resistance using the supernatural power of Geass, an ability that allows him to give orders that are impossible to ignore. The series has one of the most interesting protagonists, only compared to Light Yagami, from Death Note.
32. 3-Gatsu No Lion (2016)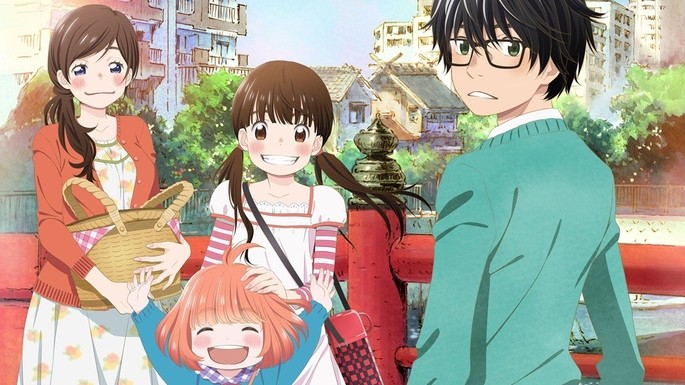 Genre: Drama, Board Game, Seinen, Slice of Life
Studio: Shaft
Also known as March Comes in Like a Lion. Rei Kiriyama, a young prodigy of Japanese chess, shogi , feels lonely. Despite having by his side a trio of sisters who take care of his health and try to offer him company and the warmth of a home, he lives alone and plunged into depression. Little by little, Rei will have to discover his purpose, his love for life and his passion for the game that has saved him on more than one occasion. In this series we can not only follow Rei's fight against depression, but also touch on various topics about adulthood, depression, the struggle of living and feeling alone and the problems they face in daily life, varying ages and circumstances without fall into repetition
33. Ousama Ranking (2021)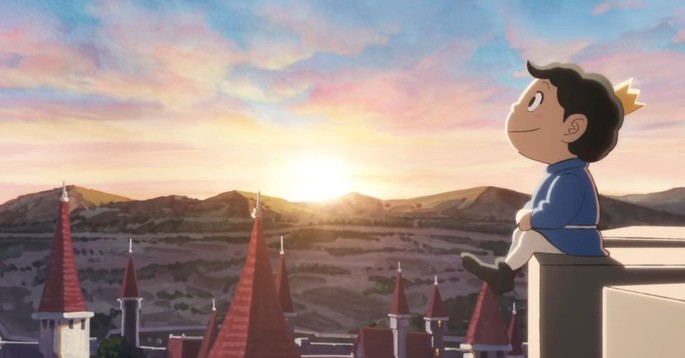 Genre: Adventure, Fantasy
Studio: WIT Studio
Bojji is the laughing stock of his people, even though he is the heir to the throne. He is deaf and dumb, and because of this he has always been an outcast. However, he is a boy with a big heart, and he promised his mother that he would be the best king in history.
After having an encounter with a shadow that should have scared him, Bojji takes it as fate, and befriends this peculiar being. Thanks to this, he meets a being who does not judge him for everything he lacks. And this meeting is the beginning of a fantastic journey where Bojji tries to overcome all his fears and insecurities.
34. Clannad (2007)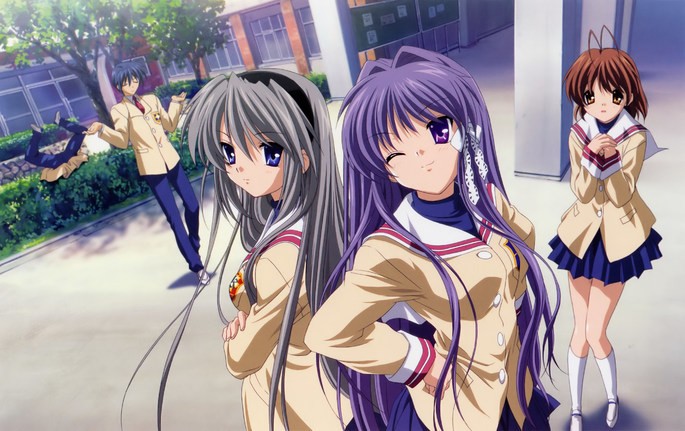 Genre: Comedy, Drama, Romance, School, Slice of Life, Supernatural
Studio: Kyoto Animation
The first season of this series is a typical romantic comedy, but once the story progresses, it becomes a love story like no other. Clannand follows the transformation of Tomoya Okazaki, a delinquent who thinks he is no good, into a promising young man, in love with life and an enthusiastic young woman named Nagisa Furukawa. Little by little, Tomoya realizes that life has much more to offer, and begins to understand its value.
35. Monogatari series (2009)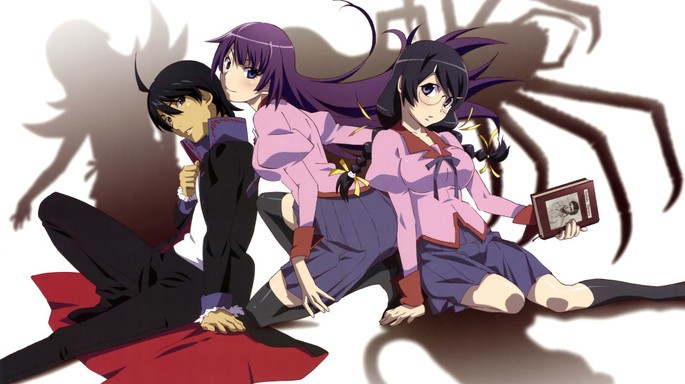 Genre: Romance, Supernatural, Mystery, Vampires
Studio: Shaft
For this series we have a specialized list with the viewing order. Follow the adventures of Koyomi Araragi, an unlucky young man who has returned to his human form after spending time as a vampire. One day, in an encounter that will turn his life upside down, Koyomi picks up the quiet high school student, Hitagi Senjogahara, who has fallen from one of the highest stairs in the place.
36. Haikyuu !! (2014)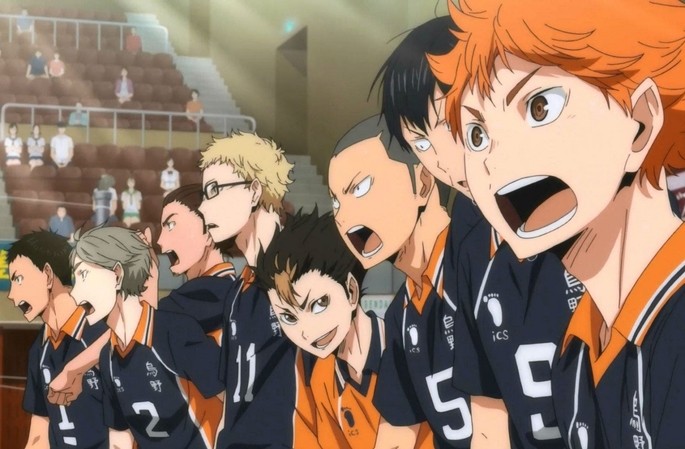 Genre: Comedy, Sport, Drama, School, Shounen
Studio: Production IG
Hinata Shouyo is in love with volleyball. After the titanic effort of reaching a tournament for the first time with a group of apathetic students, he is destroyed by the king of the court, Tobio Kageyama. Hinata swears she'll get revenge on Kageyama on the court when he becomes a high school student and joins the high school volleyball team, but to his surprise he discovers that one of his teammates turns out to be the king of the court himself. that defeated him.
37. Hellsing (2001)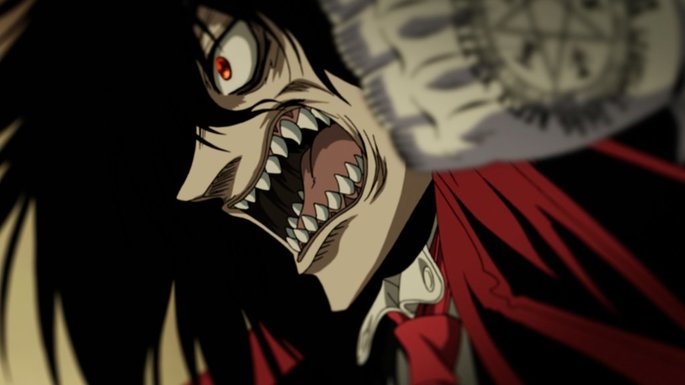 Genre: Action, Horror, Supernatural, Vampires, Seinen
Studio: Gonzo
Hellsing is a prestigious organization that is responsible for ending those supernatural threats that lurk in the night. Among them, there are vampires who are slowly destroying the city of Cheddard. To finish them off, Integra Fairbrook, the owner of the organization, makes a show of power by summoning her most formidable knight, Alucard, a vampire who hates her kind.
38. Mob Psycho 100 (2016)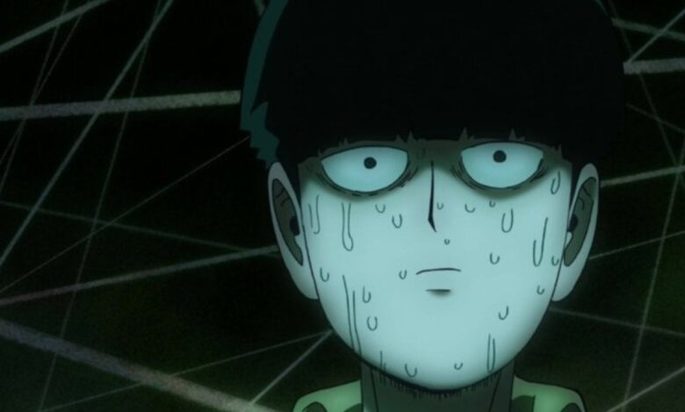 Genre: Action, Slice of Life, Comedy, Supernatural
Studio: Bones
Shigeo Kageyama is a young high school student who has shown great psychic abilities for as long as he can remember. However, these abilities are not able to give him the one thing he longs for, and that is to be friends with the girl he likes. Also known as "Mob", the young man decides to learn to control his abilities under the tutelage of Arataka Reigen, a con man who claims to be psychic. However, this new ally has also tricked Mob, and is using him to steal cash.
39. Fate/Stay Night series (2006)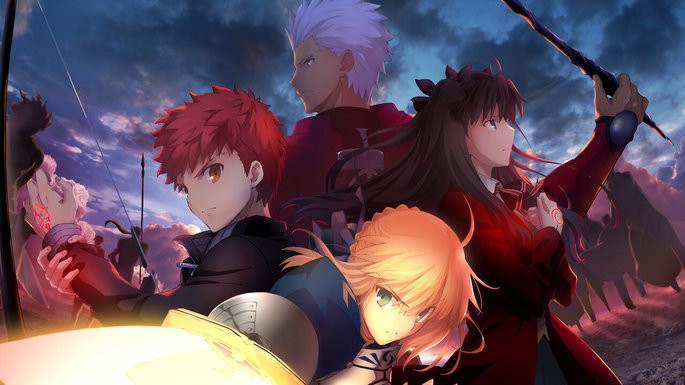 Genre: Action, Supernatural, Magic, Romance, Fantasy
Studio: Studio Deen, ufotable
This series is based on a visual novel of the same name, which is why it has different concepts, environments and protagonists. The original and oldest series is Fate/Stay Night , which came out in 2006, whose direct sequel is Fate/Stay Night Unlimited Blade Works and the film Fate/Stay Night Heaven's Feel, divided into three parts. Fate/Zero is its sequel, and it has different spin-offs with different names.
40. Shouwa Genroku Rakugo Shinjuu (2016)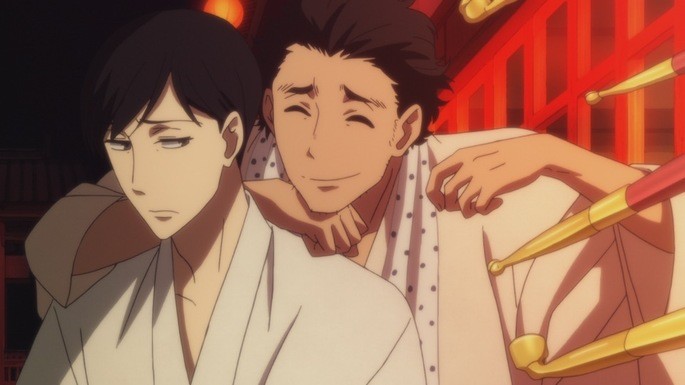 Genre: Drama, Historical, Josei
Studio: Studio Deen
Another series about an art little known internationally but deeply rooted in Japan. This time, rakugo , a performing art dedicated to telling stories with hints of comedy. Yotarou is a former member of the Japanese mafia, the yakuza, who has just been released from prison, and who prefers to dedicate himself to learning the art of rakugo. His inspiration came during his time incarcerated, where he met Yakumo Yuurakutei, a nationally renowned comedian. His mission is to meet the man who changed his life. When he finally finds him, he begs to take him on as an apprentice, and Yakumo is forced to agree.
41. Mushishi (2005)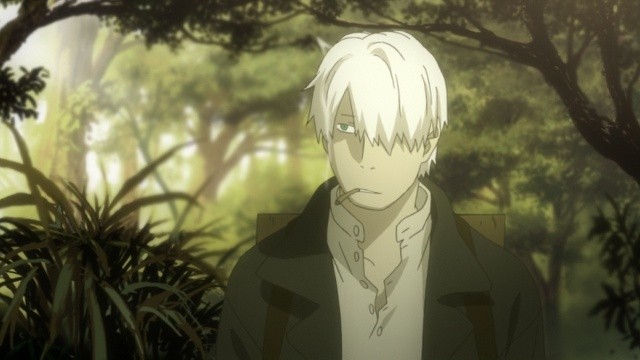 Genre: Adventure, Slice of Life, Mystery, Historical, Supernatural, Fantasy, Seinen
Studio: Artland
That thing called mushi is the most basic form of life that exists. They have no purpose or goal, they just are. They are far beyond good and evil, and can exist in different forms, mimicking the natural world, plants, diseases, and phenomena such as rainbows. But these entities are unknown and fascinating to those called mushishi, the humans who study them, even though many humans don't even know they exist. Ginko, the protagonist of this story, will search for a way to understand the mushi , as well as an answer to the meaning of life itself. Maybe the mushi have it.
42. Kill la Kill (2013)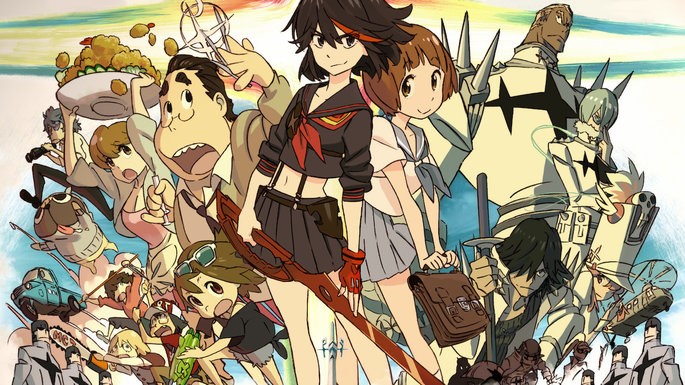 Genre: Action, Comedy, Ecchi, School
Studio: Trigger
Ryuuko Matoi is searching for the culprit behind her father's murder, her search leads her to the prestigious Honnouji academy, where she will discover an elite of fighters like she has never seen before. After a fateful encounter in a magical uniform, she Ryuuko will gain magical powers to face this elite, and perhaps she will find the answers she seeks.
43. Rurouni Kenshin (1996)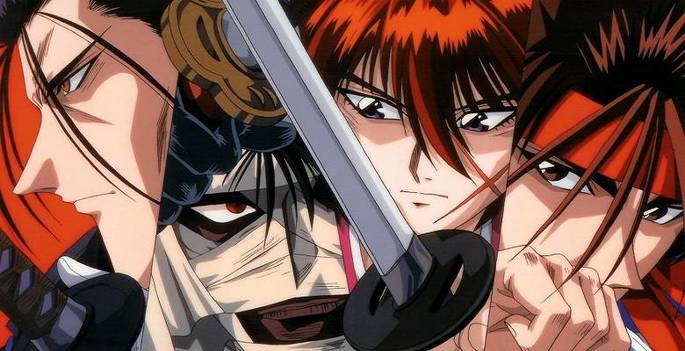 Genre: Action, Adventure, Comedy, Historical, Romance, Samurai, Shounen
Studio: Gallop, Studio Deen
At the end of the Bakumatsu era there lived a renowned assassin swordsman by the name Hitorikiri Battousai. He is an assassin feared by all, and during his travels around the country, there was no one to compare to him. However, from one day to the next he disappeared, leaving behind him a trail of war that little by little, year after year, was erased. But still for veterans, the mere mention of Battousai makes their blood run cold. What these veterans don't know is that Battousai has left behind the assassin image of him, and is paying for his sins by living as Kenshin Himura, a swordsman with a will of steel and a carefree attitude.
44. Inuyasha (2000)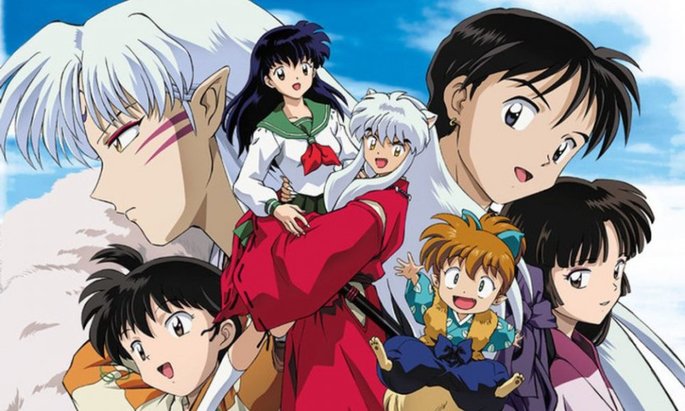 Genre: Action, Adventure, Comedy, Historical, Demons, Supernatural, Magic, Romance, Fantasy, Shounen
Studio: VIZ Media
Kagome Higurashi, a young student whose family takes care of a temple with an ancient well, suffers a supernatural attack that puts her inside the well and transports her to the time of the feudal wars. There, she discovers that she is the reincarnation of a powerful priestess who guarded a dangerous jewel capable of calling demons into her presence. During a centipede woman's attack, she meets a half-beast man, InuYasha, who tried to steal the pearl fifty years before to become a pure demon.
45. Your Lie in April (2014)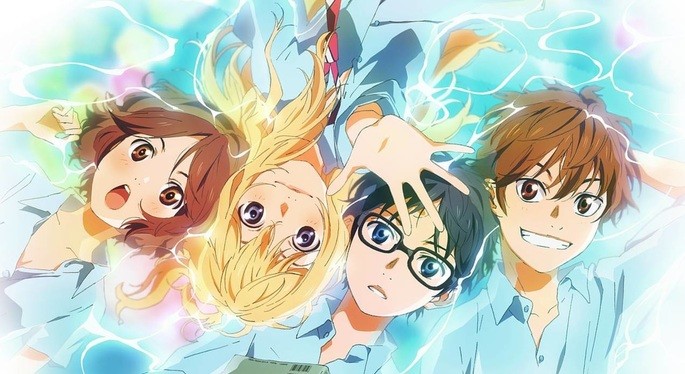 Genre: Drama, Music, Romance, School, Shounen
Studio: A-1 Pictures
One of the most acclaimed romantic dramas by fans, Your Lie in April follows Kousei Arima, a young piano prodigy who, after losing his mother, loses all emotional contact with the instrument that has given him so much. He avoids the piano, feeling unable to hear the melody from it, and two years later, he is still living a monochromatic life together with his friends. But when he meets the beautiful violinist, Kaori Miyazono, his world fills with color again.
46. Card Captor Sakura (1998)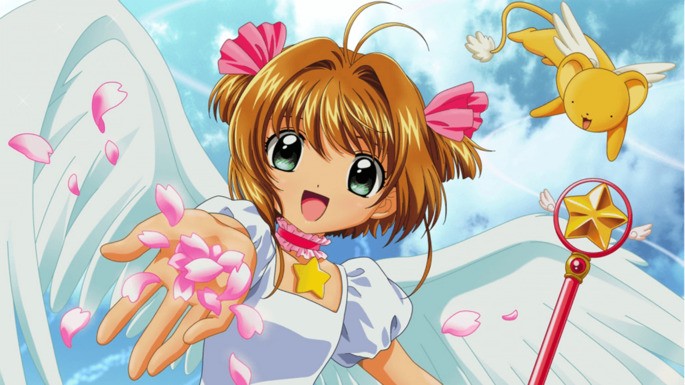 Genre: Adventure, Comedy, Drama, Magic, Romance, Fantasy, School, Shoujo
Studio: Madhouse
Sakura Kinomoto is a normal girl, she lives a happy life with her father and brother at home, she has a group of friends who trust her, and she takes care of the housework when needed. One night, checking out her father's work library, she comes across a curious book that seems to glow. Opening it, she finds some letters inside. When she calls out the name of the first card, she unleashes a gust of wind that causes all the cards to scatter. A talking flying teddy comes out of the book as well, who scolds her and tells her that now, she will have to catch all the cards and turn them back into her original form, or else misfortune might befall her world. Sakura accepts the mission, and becomes a card captor with a magic staff that gives her card powers.
47. Revolutionary Girl Utena (1997)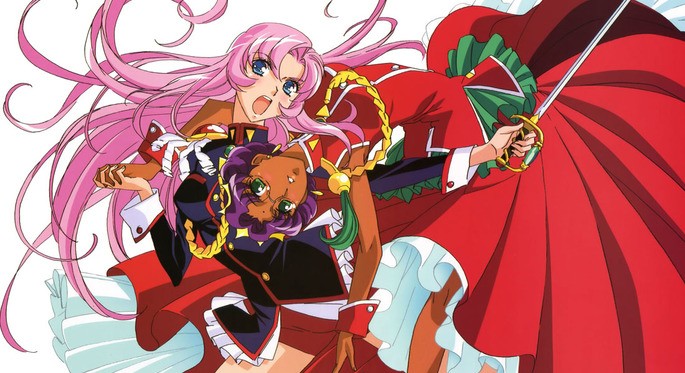 Genre: Comedy, Drama, Fantasy, Mystery, Psychological, Shoujo
Studio: JC Staff
This is one of the most daring and interesting classics of the 1990s era. Utena Tenjou is a young woman who has just lost her parents, and after being comforted by a prince, Utena is moved, deciding to become a prince in the future. Years later, the young woman shows up at Ootori Academy, where she finds herself in a dangerous game, a series of duels with young men who show similar memories of the prince who once helped her. The prize of the tournament is the mysterious Pink Bride, Anthy Himemiya, who has strange powers.
48. Great Teacher Onizuka (1999)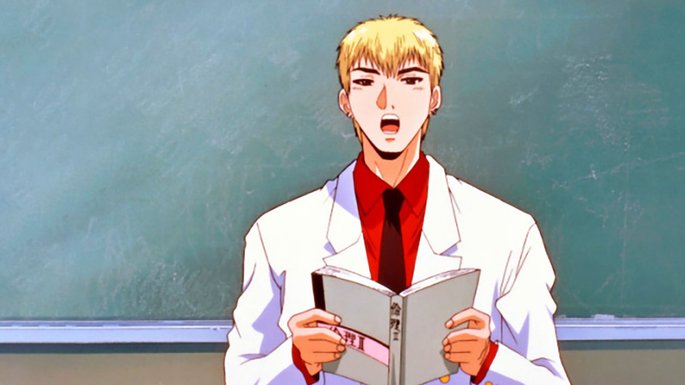 Genre: Slice of Life, Comedy, Drama, School, Shounen
Studio: Studio Pierrot
Eikichi Onizuka is 22 years old and after being the leader of a group of bikers, his new aspiration is to become the best teacher in all of Japan. It is not that his cause is very noble either, he actually dreams of marrying one of his students so that she can take care of him when he is old. However, there is much more to him than meets the eye, and when he arrives at Holy Forest Academy, he begins to demonstrate his talents to a class full of students who hate his teachers.
49. Vinland Saga (2019)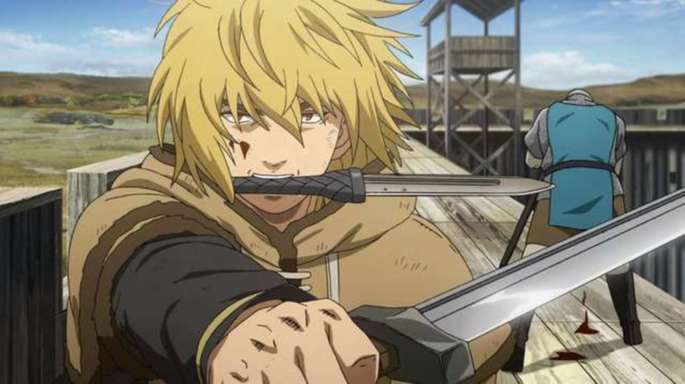 Genre: Action, Adventure, Drama, Historical, Seinen
Studio: Wit Studio
In this epic Viking tale, we follow Thorfinn, who has just tragically lost his father to a gang of Viking thieves who offer him the option of assassinating the fearsome Askeladd to avenge his father's death. Thorfinn will evolve in the shadow of the innocent child he once was, remembering his father's "no one's worth hurting" teaching as nothing more than a myth.
50. AnoHana (2011)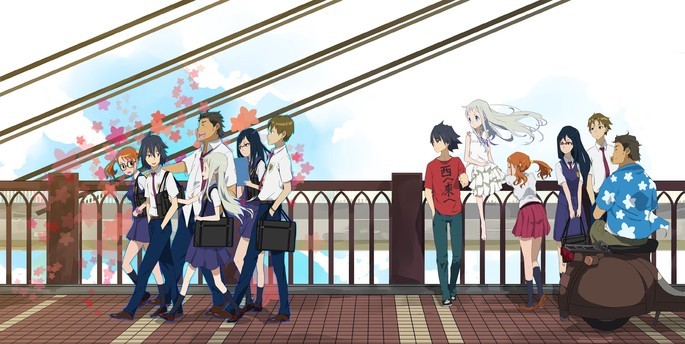 Genre: Slice of Life, Supernatural, Drama
Studio: A-1 Pictures
Jinta Yadomi used to be an optimistic boy and a born leader, but the death of his beloved Menma led him down the path of loneliness and isolation. Now, his group of friends no longer speak to him, and he spends his days alone. One morning, he wakes up and his friend Menma is there, in front of him. The girl has grown up, she seems the same age as her, and Jinta doesn't understand what's going on. Menma explains that she is indeed a spirit, and that she needs the help of Jinta and her friends in order to rest in peace.
51. Natsume's Book of Friends (2008)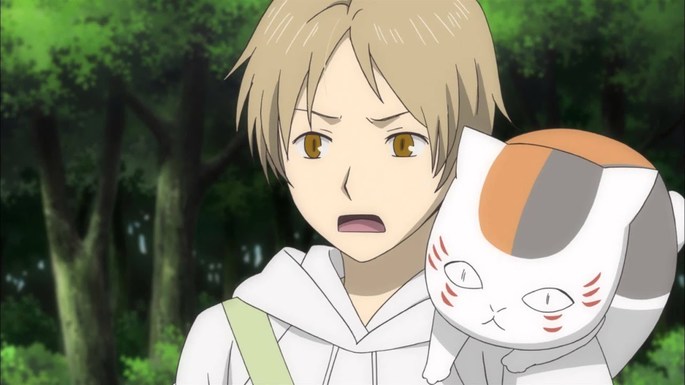 Género: Slice of Life, Sobrenatural, Drama, Shoujo
Estudio: Brain's Base
Takashi Natsume has a secret that he doesn't like to admit; since he is very young he has the ability to see yokai that are constantly on the lookout for him. After inheriting a diary from his grandmother, he discovers his "book of friends", a notebook where he wrote down all those spirits that he managed to dominate, and now, at the hands of Natsume, these spirits persecute him to obtain the long-awaited Liberty.
52. Tengen Toppa Gurren Lagann (2007)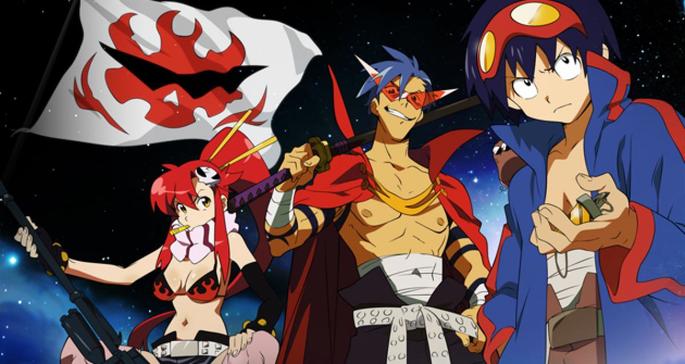 Genre: Action, Adventure, Comedy, Mecha, Science Fiction
Studio: Gainax
Simon and Kamina dream of going to the surface. Despite living with the notion that it is only a myth, Kamina insists on changing their lives and exploring the unknown, while Simon prefers to improve his skills with the excavation drills. During one of his missions, Simon will discover a curious drill-shaped key, which will soon lead him to find the other part of him, a robot with the power to transform. Finally, an adventure like the ones Kamina has always dreamed of begins.
53. Violet Evergarden (2018)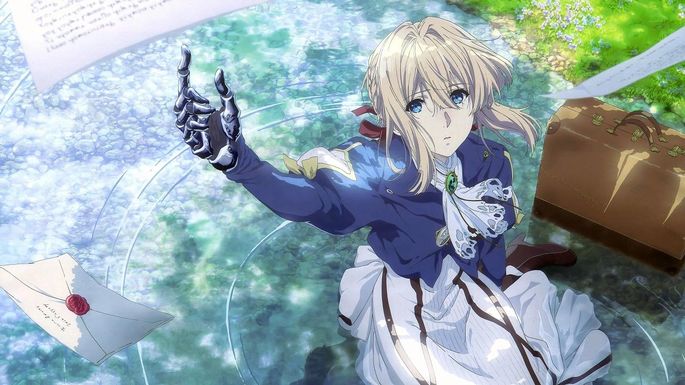 Genre: Slice of Life, Drama, Fantasy
Studio: Kyoto Animation
Violet Evergarden was an android who served in the military. After her last mission, she lost the person she loved the most, who left her wondering what the word "love" means. To learn about this emotion, she decides to start working as an Auto Memory Doll, a special service dedicated to writing important letters for all kinds of clients. Through her travels, Violet will discover the meaning of love, which can manifest itself in any way. And along the way, she will change the perspective of those who judge her for being a robot.
54. Suzumiya Haruhi series (2009)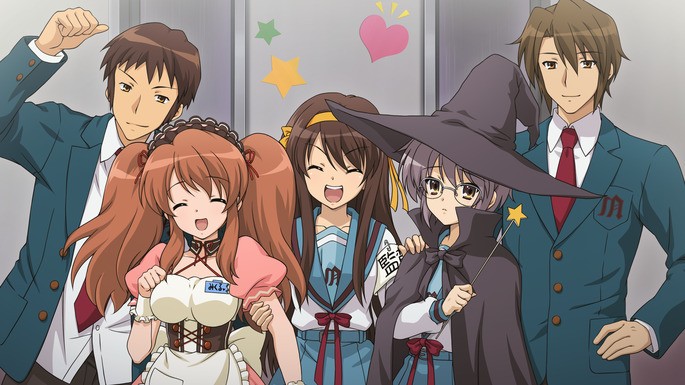 Genre: Comedy, Mystery, Parody, Romance, School, Sci-Fi, Slice of Life
Studio: Kyoto Animation
Adapted from a series of light novels, the story of Haruhi Suzumiya is that of a young teenager who spends her days doing mischief with the SOS Brigade, founded by herself to keep from getting bored and investigate mysterious events. Haruhi forces her classmate Kyon to join the club, as well as three other members. Little by little, Kyon feels that he is the only sane one in the whole group when he begins to realize that Haruhi seems to manipulate reality around her, but eventually he discovers that both she and the rest of the group are extraordinary characters, outside of this. world. The anime series has several seasons and spin-offs.
55. Puella Magi Madoka Magica (2011)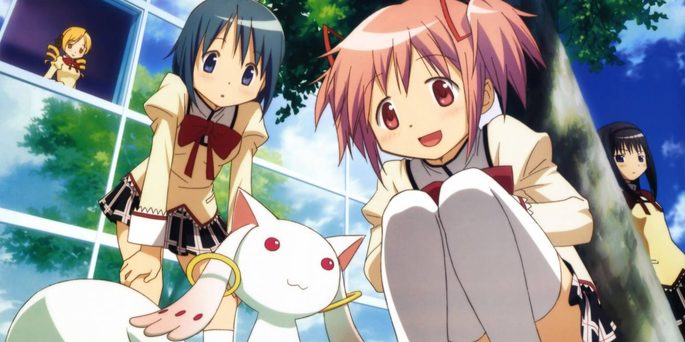 Genre: Psychological, Drama, Magic, Thriller
Studio: Shaft
In this series of magical warriors it is nothing like what we have already seen. We follow Madoka Kaname, a young woman who lives a quiet life. One day, along with her friend Sayaka Miki, they meet a magical creature called Kyuubei, who offers them a deal: he will fulfill their greatest wish, without exception, in exchange for them accepting to be magical warriors who fight against the evil forces represented by the witches.
These beings are created as a result of the evil wishes of humans, and are invisible to people. However, this story is not what it seems, and little by little, we discover that witches are more terrifying than originally thought… This de-construction of the mahou shoujo genre is masterful, a mandatory stop for anyone who rejects this genre and labels it as childish, ridiculous or only for girls.
56. Re: Zero kara Hajimeru Isekai Seikatsu (2016)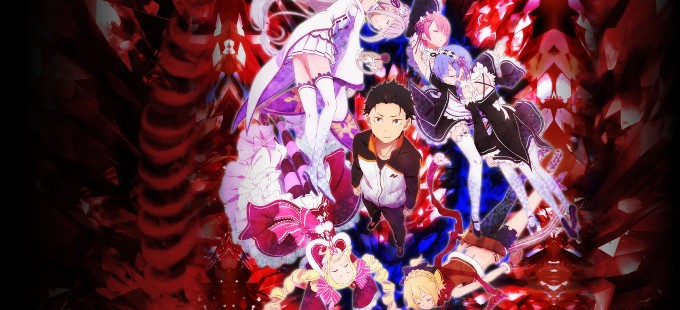 Genre: Psychological, Drama, Thriller, Fantasy
Studio: White Fox
Subaru Natsuki is a young man who, after an accident, is transported to a magical fantasy world. Disoriented, with a shopping bag and a dead phone, he is attacked by robbers, only to be rescued by a mysterious beauty named Satella. The girl, as compensation, asks for his help in finding her badge and Subaru accepts, very grateful. During their search, they are unaware that they are being pursued by a terrifying presence that soon kills them. But to Subaru's surprise, he wakes up minutes later, being confronted by the same thieves from the beginning…
57. Samurai Champloo (2004)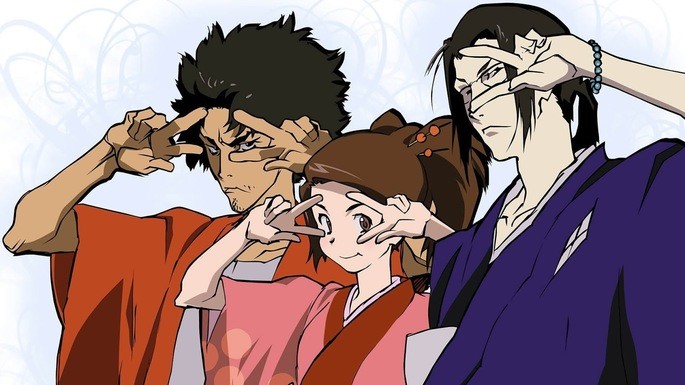 Genre: Action, Adventure, Comedy, Historical, Samurai, Shounen
Studio: Manglobe
In an alternate version of the Edo period in Japan, we meet Fuu, a young woman who works as a waitress despite being extremely clumsy. This clumsiness lands her in trouble with a group of samurai, and when she begs for someone to defend her, Mugen, a rebel who fights with too modern moves, and Jin, a young ronin with a more traditional approach to fighting, enter. Mugen and Jin eventually end up at odds and imprisoned, but Fuu rescues them to ask them to be her bodyguard. Thus begins the story of this trio, who embarks on a search for a samurai who smells of sunflowers.
58. The Tatami Galaxy (2010)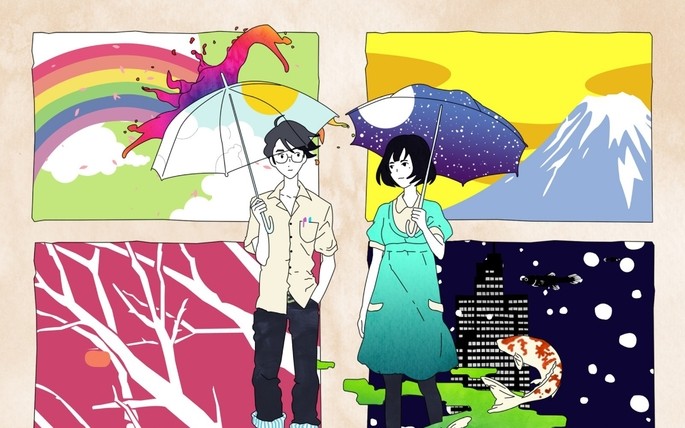 Genre: Mystery, Comedy, Psychological, Romance
Studio: Madhouse
One of the most acclaimed experimental series, can be seen in a couple of sittings. In this story about second chances, we follow a college graduate who regrets wasting his time and not asking out the girl he liked after meeting a mysterious being who calls himself God. of marriage.
With renewed will, the young man decides to dare with the girl, and as soon as he feels the pain of rejection, he is transported to the beginning of his university years, like a second chance.
59. Bakuman (2010)
Genre: Comedy, Drama, Romance, Shounen
Studio: JC Staff
In this must-see classic for every manga and anime fan, we follow an aspiring mangaka, Moritaka Mashiro. Since he was young he has always dreamed of becoming a mangaka, and when he meets Akito Takagi, the most diligent young man in the school, he decides to form an incredible team of narrator and cartoonist.
Moritaka agrees, on the condition that they do such an exceptional job, that it be adapted into an anime and they can call the girl he likes, Miho Azuki, to do the dubbing for the adaptation.
60. Assassination Classroom (2015)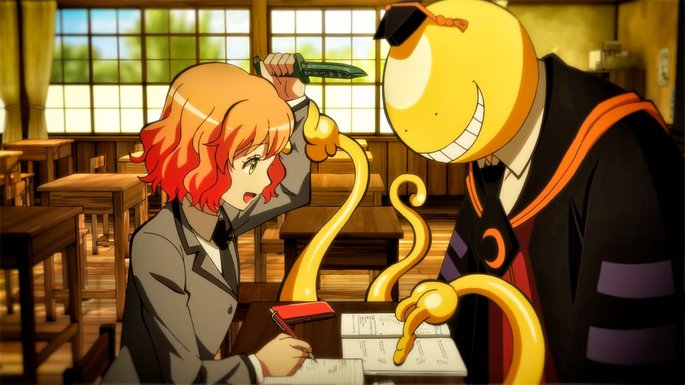 Genre: Action, Comedy, School, Shounen
Studio: Lerche
The land has been threatened. After a monster ate half of the moon, the creature made a deal with humanity: they had a deadline to finish him off, but those in charge of this feat would not be military, nor professional assassins, but a group of students. secondary school students who have been marginalized by the education system all their lives.
The monster turns out to be a competent teacher, and little by little, the students in his class begin to improve not only academically, but in the art of assassination. But the more time they spend with his teacher, the more they grow fond of her… Assassination Classroom is a series that needs to be given time, but the character development, the story, and its ending are so worth it.
61. Parasyte: The Maxim (2014)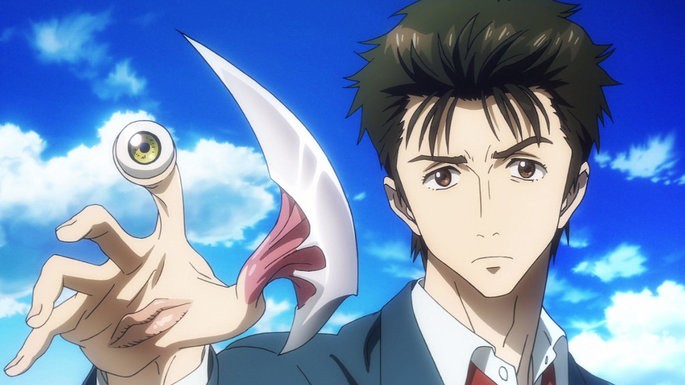 Genre: Action, Science Fiction, Horror, Psychological, Seinen
Studio: Madhouse
When an alien invasion plunges humanity into chaos, little by little unique characteristics are discovered in this new species. In principle, no one is safe. These life forms are parasites that can take the form of anyone they infect. However, Shinichi Izumi has been lucky, and the parasite has only lodged in his right hand. Now, the parasite is called Migi, and he must depend on the young man to stay alive. They will have to co-exist and fend off hostile parasites who want to wipe out their kind.
62. Magi: The Labyrinth of Magic (2012)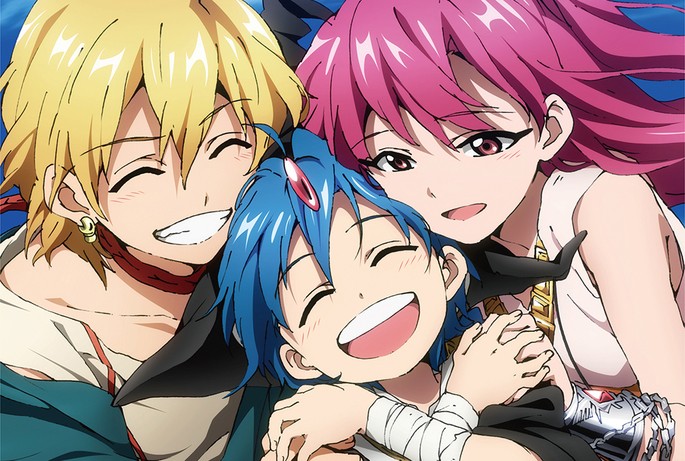 Genre: Action, Adventure, Fantasy, Magic, Shounen
Studio: A-1 Pictures
In this story we follow Aladdin, a young man with the power to summon a genie named Uggo with his flute. He is a young wizard who doesn't quite know how to use his power, and Uggo will soon become his mentor. Accompanied by Alibaba Saluja, they decide to go through one of the magical labyrinths that are scattered throughout the kingdom to make amends for an accident. In this world, there are the Magi, a rare class of magicians who dedicate themselves to traversing these labyrinths to gain fame and recognition.
63. Wotakoi: Love is Hard for Otaku (2018)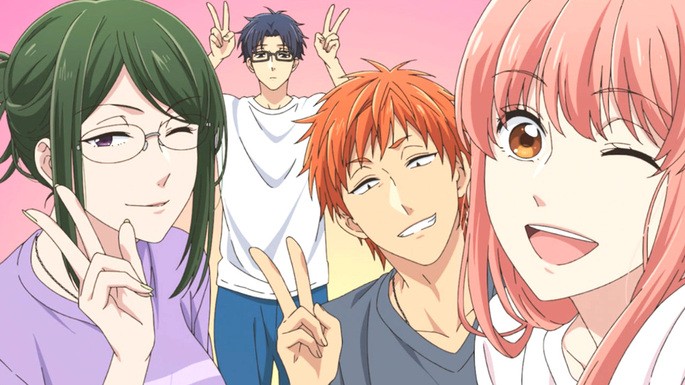 Genre: Comedy, Romance, Slice of Life
Studio: A-1 Pictures
Narumi Momose is an adult with no embarrassing hobbies or connection to otaku culture , or at least that's what she wants everyone to believe. In reality, Narumi is a lost otaku , an avid fan and consumer of anime and manga, and fujoshi, on top of everything. She has quit multiple jobs after being forced to admit to her hobby, and her relationships haven't lasted for the same reason.
When she runs into a childhood friend at the new company that hires her, she panics, begging him not to tell anyone what she likes. However, the boy makes her a proposal: if she has such a hard time finding a partner because she is an otaku, why don't they go out together? In reality, Hirotaka Nifuji has always admired Narumi for her likes and the way she presents herself to others, and he will use this opportunity to show her that her world does not have to be based on hiding what she really is. loves.
64. Erased (2016)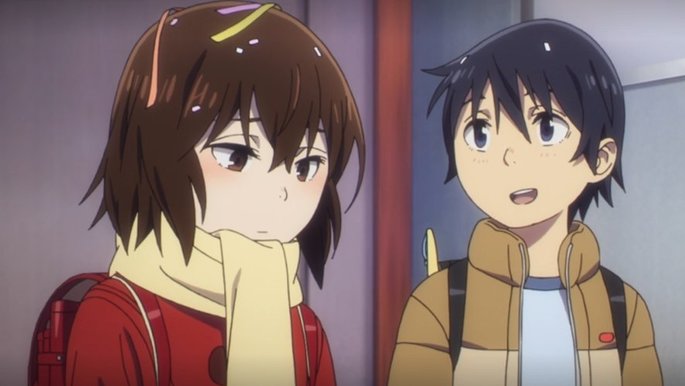 Genre: Mystery, Psychological, Supernatural, Seinen
Studio: A-1 Pictures
Satoru Fujinuma, a young man from Chiba with the supernatural ability to turn back time to prevent minor accidents, becomes involved in a web of serial murders dating back to his elementary school days.
To avoid a recent and painful loss, Satoru decides to take advantage of his ability and return to the past, where he begins to investigate, in order to prevent the deaths of several of his classmates and discover their connection to the events of the present. This short series has an interesting premise, with a fast pace and a lot of intrigue.
The end of the series divided many fans, but the story and its development is good enough to put that aside and say that the series is unmissable.
65. Mushoku Tensei: Isekai Ittara Honki Dasu (2021)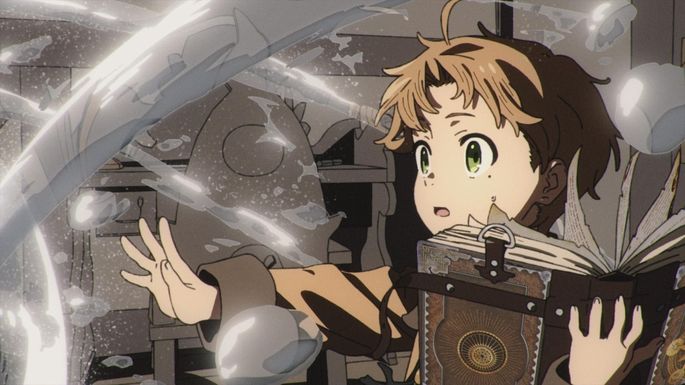 Genre: Fantasy, Drama, Ecchi
Studio: Studio Bind
At 34 years old, the protagonist of this story is a good for nothing. All his life he has been abused and treated like an idiot, he has always been alone, and his only motivation to perform a heroic act ends in tragedy. But that's just the beginning.
Now, he has been reincarnated as Rudeus Greyrat, a newborn baby living an idyllic life in a fantasy world. He has magical powers, incredible abilities, and is surrounded by people who seem to expect a lot from him. However, he has all the memories of his old self, and is afraid of becoming, again, that same despicable being that he was before he passed away.