The distributor Konnichiwa Festival published the advance with dubbing into Latin Spanish for the film of the franchise of Kaguya-sama: Love is Warwhich will be titled Kaguya-sama: Love is War – The First Kiss That Never Ends and? It will be released on February 10. in theaters in Mexico for a single weekend subtitledto brand new on February 16 with the dubbing into Latin Spanish.
It should be remembered that the film will also have screenings in Guatemala, Honduras, El Salvador, Costa Rica and Panama through the chain Cinépolis starting on the same date. Also in Argentina (February 9), Chile (February 9), Peru (February 10), Colombia, Brazil and Ecuador on dates yet to be announced.
For his part, aka akasaka began publishing the manga in the magazine Miracle Jump from the publisher Shueisha in May 2015, and moved it to the magazine Weekly Young Jump in 2016, finishing it in November 2022. The work has so far inspired three seasons of an anime adaptation, followed by an animated film by the studios A-1 Pictures. A fourth season is in production, according to a recent leak.
Production team
shinichi omata(Grancrest Senki, Mahou Shoujo Madoka Magica, Sankarea) was in charge of directing the project in the studiosA-1 Pictures.
yasuhiro nakanishi(Jibaku Shounen Hanako-kun, Kakkou no Iinazuke, Mini Hama: Minimum Hamatora) was in charge of writing and supervising the scripts.
Yuko Yahiro(Aharen-san wa Hakarenai, Diabolik Lovers, RobiHachi) handled the character design.
kei haneoka(Hanamonogatari, Kono Oto Tomare!, Yawaraka Sangokushi Tsukisase!! Ryofuko-chan) was in charge of composing the soundtrack.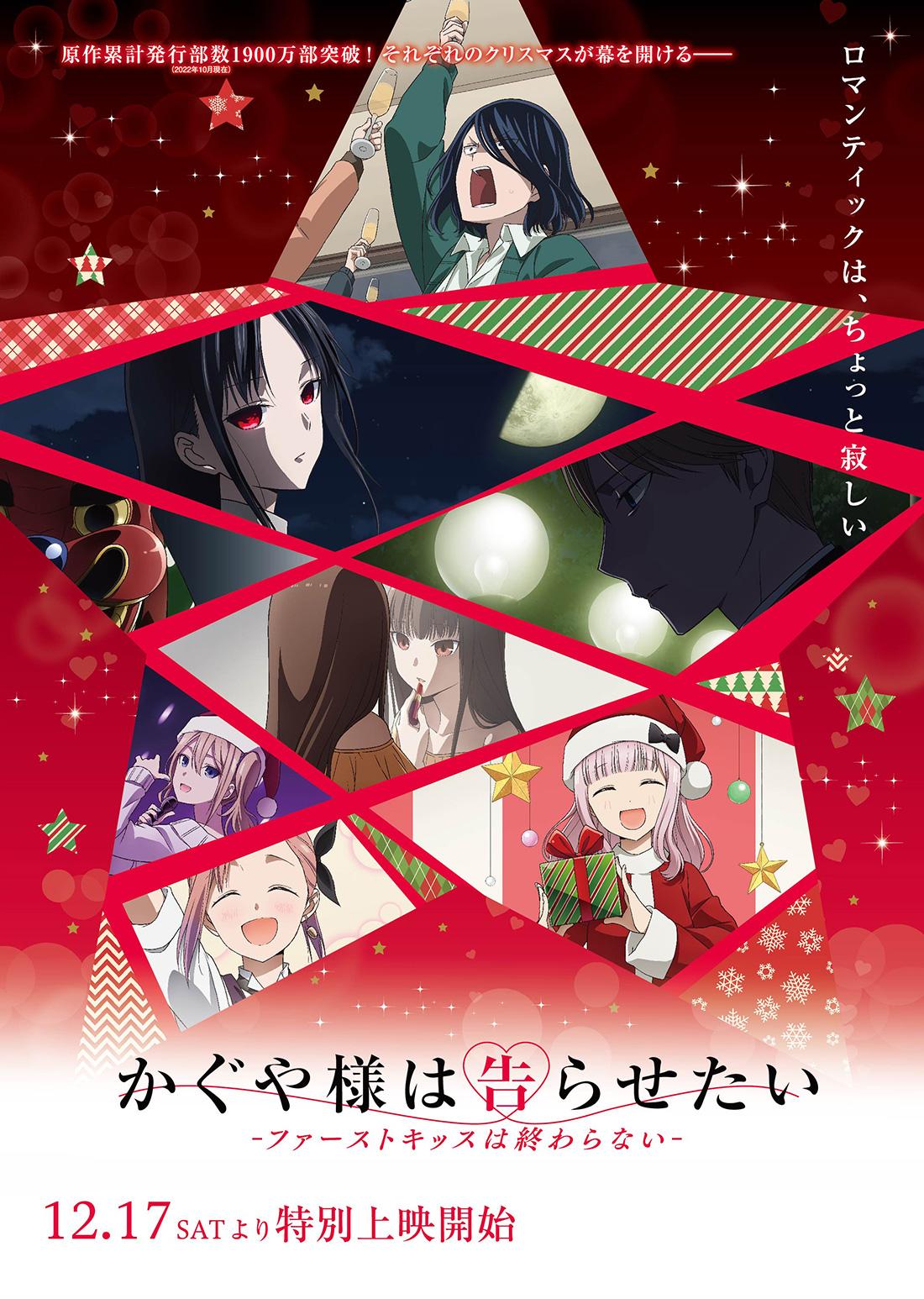 Synopsis for Kaguya-sama: Love is War
At the renowned Shuchiin Academy, Miyuki Shirogane and Kaguya Shinomiya are the top representatives of the student body. Ranked as the best student in the nation and respected by his peers and mentors, Miyuki is the student council president. Along with him, Vice President Kaguya -eldest daughter of the wealthy Shinomiya family- stands out in every field imaginable. They are the envy of all the students, considered the perfect couple. However, despite the fact that both have already developed feelings for each other, neither is willing to admit them. The first to confess loses, will be despised and will be considered the least. With their honor and pride at stake, Miyuki and Kaguya are equally determined to be the one to emerge victorious on the battlefield of love!
Fountain: Official Twitter account
(c) 集英社・かぐや様は告らせたい製作委員会
The entry The trailer with dubbing for the Kaguya-sama movie: Love is War arrives was published first on Kudasai.